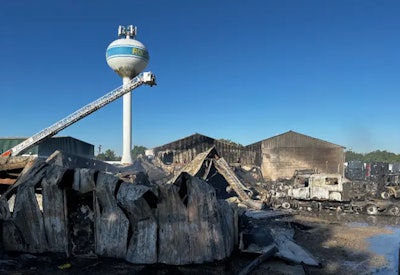 Rockdale Police Chief Robert Dykstra
A massive fire destroyed part a building and numerous trucks at a truck repair company near Chicago the afternoon of Friday, June 3.
Firefighters from at least 10 departments responded to the blaze at Longhorn Truck Repair in Rockdale, Illinois, which is about 50 miles southwest of Chicago.
No injuries were reported in the fire that was reported at about 4 p.m.
According to one report, half of the building was destroyed as were numerous trucks. The cause of the blaze is still unknown, but it is said that a truck caught fire and that the blaze spread to the building.
One police official estimated there were more than 100 trucks parked at the facility.
Canadian truckers busted with $2 million of cocaine
Two Canadian truckers were arrested in Arizona recently after police found almost $2 million worth of cocaine in their truck.
The two men pleaded not guilty to serious drug charges.
An Arizona State Trooper stopped the tractor-trailer that was eastbound on Interstate 8 near Gila Bend, Arizona May 18, according to the Arizona Department of Public Safety.
Albi Naska, 36, of Aurora, was driving and Victor Nikitin, 36, of Richmond Hill, was a passenger said to have been sleeping at the time of the stop.
Police said they "observed multiple indicators of criminal activity" during the traffic stop for an unspecified equipment infraction.
A drug-detecting dog was brought in for a roadside exterior sniff of the vehicle. The dog gave an alert at the front cab, which triggered probable cause for a search of the interior. Officers found 60 bricks of cocaine said to be worth $1.9 million.
Both men were charged with drug possession for the purpose of sale, transporting drugs, conspiracy, and illegal control of an enterprise.
Yellow hands out CEO awards
Yellow recently. named the winners of several of its CEO Awards.
Honored were:
Peggy Arnold, a driver from Nashville
Michael Wheeler, a P & D driver from Buffalo, New York
John DiBiari, area director of sales from South Plainfield, New Jersey
Sean Donovan, a dock worker from Tracy, California
Kenworth to stage truck parade in Chillicothe, Ohio
The Kenworth assembly plant in Chillicothe, Ohio is hosting Kenworth's first Chillicothe Truck Parade.
The event will be held in downtown Chillicothe, June 18 at 8:45 p.m.
The company said trucks are coming from 28 states to participate.
All proceeds benefit United Way of Ross County.
ICYMI
Two major classic truck shows next week and week after
Are you contemplating switching jobs this summer?
One tractor-trailer driver slams into a Walmart, another rams boyfriend's mobile home