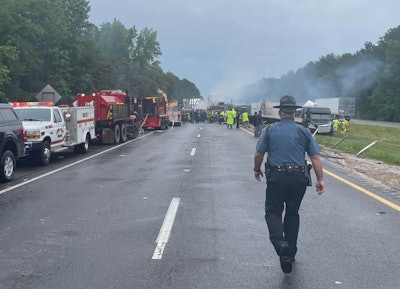 ADOT Photo
Three people died in several crashes and fires on Interstate 30 near Friendship, Arkansas Wednesday afternoon. As many as nine tractor-trailers were among the 12 vehicles that were involved in the crashes that occurred during thunderstorms.
The names of the dead have not been released by authorities. There were also reports of numerous injuries.
Police say the wrecks began with a two-vehicle collision at about 12:30 p.m. near the Friendship exit. That led to at least two other chain-reaction crashes.
Video taken by a passing motorist shows at least four tractor-trailers involved in a collision and fire.
Traffic was stranded on I-30 for much of the night. Arkansas Department of Transportation employees are said to have delivered food to many of those stuck on the highway.
The Arkansas Department of Transportation today said its crews were milling out the asphalt that was damaged in the accident. They will repave the inside lane and shoulder and open those while they repave the outside lane and shoulder.