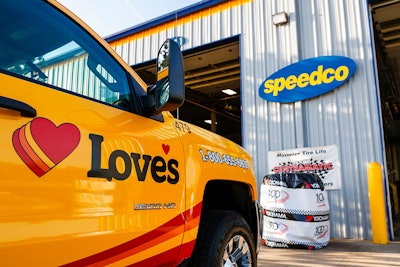 Love's Travel Stops itoday announced the opening of five new Speedco locations.
The locations offer tire, lube and light mechanical services, as well as DOT inspections, for professional drivers and fleets.
The new Speedco locations are at:
57964 188th Street, Pacific Junction, Iowa

8708 Crossing Drive, Rockville, Minnesota

1262 Route 414, Waterloo, New York

1601 East Evergreen Street, Cameron, Missouri

6201 Shortman Road, Ripley, New York
"With more than 1,500 maintenance bays and 430 locations, Love's has the most expansive truck care network on the highway," said Gary Price, executive vice president of total truck solutions for Love's. "Our goal is to get professional truck drivers back on the road quickly and we'll continue to add locations and services to meet that goal."
Chemical leak at Texas truck stop forces evacuation
A leak of a tanker carrying sulfur dioxide prompted the evacuation of a Texas truck stop and nearby residents Monday afternoon.
Emergency management personnel said a valve on a tanker parked at the Pilot in Schulenburg, Texas caused the evacuation. Schulenburg is located along Interstate 10 about 95 miles west of Houston.
Officials evacuated everyone within a mile north of the truck stop and a half-mile in other directions. Residents within two miles of the truck stop were asked to shelter in place.
A first responder is said to have been exposed to the chemical and developed shortness of breath. They were treated at a nearby hospital and released later Monday.
The cleanup of the spill was completed by about 4:30 p.m.
Greater Omaha Express acquires Universe Trucking
Greater Omaha Express is acquiring Universe Trucking Co., an Omaha-based reefer carrier. Greater Omaha Express is the affiliated trucking company of beef supplier Greater Omaha Packing Company.
The acquisition increases the size of the Greater Omaha Express fleet by 20%.
"Universe Trucking Co. was a great opportunity because, like Greater Omaha Express, their values of integrity and excellence are clearly demonstrated in their quality of service," said Greater Omaha Packing CEO Henry Davis. "As we look to provide the highest quality beef, take care of our employees and support our customers, we are excited for the future."
Greater Omaha Express was established in 2006 to transport finished beef for Greater Omaha Packing Co. In the last eight years, its fleet has quadrupled to more than 100 tractors and 200 refrigerated trailers.
Founded in 1971 by Bub Johnson, Universe Trucking Co., has been led by Bob and Denise Johnson and their four sons. It primarily operates in the Midwest, South, and Southeast.
ICYMI
I-70 through Colorado's Glenwood Canyon to be closed part of Wed.
Schneider honors 132 drivers for safety on the road
Kenworth shows off 50 new, classic trucks in hometown parade
Take A Look At This