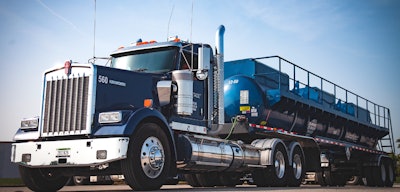 Prior to the acquisition, FVTS was one of Heritage's largest third-party transportation providers with a strong partnership over the last 20 years., a national transportation fleet affiliated with Heritage Environmental Services, recently announced that it has acquired Frank's Vacuum Truck Service, Inc., a trucking service provider based in Niagara Falls, New York.
In a statement, Heritage said the acquisition marks a beneficial growth opportunity for its North American transportation operation.
Founded in 1979, FVTS specializes in hazardous and non-hazardous waste transportation, brokerage, and disposal services across the U.S. and Canada. With over 150 trucks/trailers and roughly 60 employees, the acquisition of FVTS will allow Heritage to provide another transportation hub in a previously under-served region, with the potential for expansion of services in the future. This strategic position will enable Heritage to better serve customers in Western New York and throughout the Midwest & Eastern U.S, according to Heritage.
Prior to the acquisition, FVTS was one of Heritage's largest third-party transportation providers with a strong partnership over the last 20 years.
Heritage Environmental Services is a fourth-generation family business with over 50 years of experience.
Roadrunner offers Haul Now app to drivers
Roadrunner, a less-than-truckload carrier specializing in long-haul, metro-to-metro shipping, announced the launch of its new Haul Now app. Designed for long-haul owner-operators and teams, the free app enables them to schedule their own loads, track their settlements and run as many miles as possible. Roadrunner said Haul Now allows drivers to maximize profitability while providing them the freedom to work when they want and go where they want.
Haul Now provides a single place for drivers to choose loads, plan consecutive trips, update status, check settlements, review routes and loads, contact terminal dispatchers, receive important reminders in real-time, and reach out for help if necessary. This is done via functionality that currently exists only in consumer ride-sharing apps such as Lyft and Uber, according to Roadrunner.
Using GPS location and hours of service available, Haul Now allows drivers to find available loads at their desired terminal and filter by the number of miles they want to drive. Roadrunner's proprietary algorithm ensures optimal driver assignment by preselecting teams vs. solo drivers, or selecting hazmat if required to assign the best drivers and ensure strict service and fast transit standards are being met.
Roadrunner said the easy-to-use interface shows terminal information such as an address, hours of operation, and contact information all in one centralized location. Assigned loads are stored in one place for easy review of pickup details, rate per mile, destination information, and more. Additionally, all settlement information is easily viewed to see the total money earned and what payments are pending.
ICYMI
Already elevated cargo theft numbers expected to climb during holidays
Love's three new locations add total of 231 truck parking spots
ABF Freight driver recognized for actions at 2-car accident scene