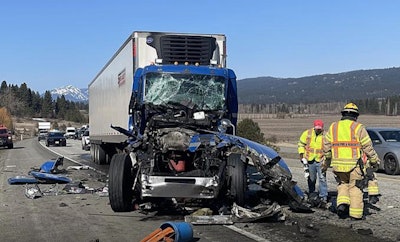 WASHINGTON STATE PATROL
One driver was injured and two were unharmed when three tractor-trailers were involved in a collision on Interstate 90 In Washington, last weekend.
The collision occurred Saturday morning, March 18, on Interstate 90 near Cle Elum, about 80 miles southeast of Seattle.
KPQ radio reports two tractor-trailers had slowed. A third tractor-trailer driven by 46-year-old Kody Huss from Ephrata did not slow down and struck the back of the tractor-trailer driven by David Britt from Vancouver. Britt's struck the one ahead of him, which was driven by David Britt from Vancouver.
Huss was airlifted to the Harborview Medical Center in Seattle. He was ticketed for following too closely.
Yellow closing Milwaukee terminal
Yellow Corp. has notified the state of Wisconsin and the City of Milwaukee that it will close its Milwaukee Terminal 386, which is located at 6161 S. 6th St.
The facility's employees have been offered transfers to other company facilities, including one in nearby Oak Creek. The change impacts 189 employees.
Yellow said it expects the closing to occur on or about May 28.
The company has previously said it intends to sell 28 terminals.
Chattanooga insurance company acquires Truck Team Insurance
Chattanooga, Tennessee-based Reliance Partners recently acquired the assets of Truck Team Insurance, a transportation-focused insurance agency in Salt Lake City, Utah.
Truck Team Insurance Agency's Owner, Brent Tate, will join Reliance Partners. Tate has more than 20 years of commercial insurance experience. He founded Truck Team Insurance five years ago, and today is an insurance brokerage providing commercial trucking insurance in 23 states. He will join Reliance Partners as a VP of sales.
"The acquisition of Truck Team Insurance aligns with our vision to grow our regional footprint in the Western portion of the US," said Chad Eichelberger, president of Reliance Partners. "Brent Tate has an established track record of organic growth prior to and during his time at TTI. The addition of TTI complements our recent expansion into Phoenix and continued growth efforts in our Sacramento office location. Our West Coast customers will benefit by our investment in Salt Lake City and Brent's team."
Reliance Partners has locations in Chattanooga, Tennessee; Birmingham, Alabama; Chicago; Austin, Texas; Tempe, Arizona; Milwaukee; Sacramento, Califonia; and Tampa. It has a national client base largely concentrated in transportation and logistics.
ICYMI
Listen to expert and former trucker explain importance of sleep
Love's opens 3 new locations, reopens one closed by fire last February
Driver Poll: Are you currently looking at other jobs?
Hazmat crash prompts Truck Safety Coalition to demand changes by DOT