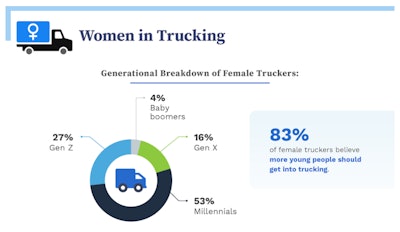 A new survey found that more than two-thirds (68%) of women truckers sleep in their truck's cab while on the road, and an overwhelming majority of them (89%) said they felt safe doing so.
That's one of the key findings of a new survey of 386 professional truck drivers by JW Surety Bonds.
The majority of women in the survey (53%) were millennials (born between 1981 and 1996) compared to just 4% Baby Boomers (born between 1946 and 1964), 16% Gen Xers (1965 to 1980), and 27% Gen Zers, who were born between the late 1990s and the 2010s.
JW Surety Bonds' survey wanted to know why respondents got into the driving profession. Responses by women included:
57% the freedom
53% the benefits
44% the schedule
44% the pay
13% getting paid to travel
12% not needing prior experience
RELATED NEWS: FMCSA names 16 members to newly-formed advisory board of women
The company's survey also found what steps women drivers took to stay safe while on the road. Those measures included having some form of protection with them. These included:
62% pepper spray
58% knife
41% firearm
39% alarm system
37% bat or club
30% taser
27% extra locking system
As for male drivers, 55% said they kept pepper spray with them and 51% said they had a bat or club in their cab.
The survey, which included 60% women drivers and 40% male drivers, also found that 59% of women drivers earned more than $50,000, and 74% of them felt they were fairly paid. That compares to 48% of male drivers making $50,000 or more; 59% of them feel they are fairly paid.
The survey also found:
92% of male truckers believe young people should get into trucking.
92% of female truckers feel respected by fellow female truckers.
74% of male truckers feel respected by female truck drivers.
92% of male truckers regret getting into trucking, compared to 66% of female truckers.
79% of male truckers frequently feel lonely on the road, compared to 65% of female truckers.