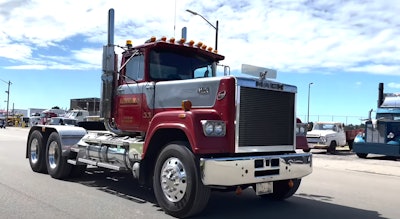 Early bird registration for this year's American Truck Historical Society Convention and Truck Show ends Friday, March 31. Registering before then saves you $10. The event is June 8-10 at the Grand Resort Hotel & Casino in Reno, Nevada.
ATHS begins taking onsite registrations on Tuesday, June 6. The Kickoff Casino Party on Wednesday, June 7, welcomes attendees, and the 2023 National Convention & Truck Show will commence June 8.
The ATHS National Convention and Truck Show are open to the public. Daily gate admittance is $15 for adults and children 12 and under are free. Admission includes the truck show, vendor expo, and learning sessions. The event is expected to attract over 1,000 trucks.
"The National Convention and Truck Show is much more than just a truck show. From the 15 Learning Sessions presented to entertain and educate guests to the Awards Banquet that honors those who contributed greatly to the industry, to the Kickoff Casino Party that encourages fun and camaraderie among members, said Executive Director Laurence Gration. "ATHS aims to host an event that members can be proud of. There will be family and kids' activities. And new this year — a spectacular light show!"
The 2023 ATHS sponsors include Cummins, Daimler Truck North America, Vander Haag's, Iowa 80, Truckomat, Cat Scale, Hagerty Insurance, the Sercombe Family, Reiselt's Machine Works, Owner-Operator Independent Drivers Association, Old Iron, and Carlisle Truck Nationals Big Rig & Shine.
(See video from 2022's show and convention below.)
Survey finds owner-operators satisfied with their jobs
A recent survey of 500 owner-operators found the majority of them are satisfied with their jobs even as current market conditions make their work more demanding.
The survey for Truckstop, an online freight marketplace, found:
65% of respondents are extremely satisfied with their job
57% say they are much more satisfied now compared to 2021
77% have booked shorter routes due to rising costs impacting their business
72% have looked for lighter loads
65% have booked fewer loads
47% say they are spending more time looking for cheaper fuel to help improve their bottom line
Truckstop said the survey also revealed that the most common things (from a closed list) owner-operators are doing to help improve their bottom line are:
Spending more time looking for more fuel-efficient routes -- 66%
Using more technology to help lower costs -- 66%
Doing more truck maintenance to guard against expensive repairs -- 65%
Joining more reward programs (to get discounts, cash back, free items, etc.) -- 60%
Using factoring (to improve cash flow) -- 51%
ICYMI
51st annual MATS opens Thursday, includes full schedule of activities
Problem with grille surround prompts recall of 5,000 International trucks
Another new NYS Thruway rest area opens in Upstate; another closes