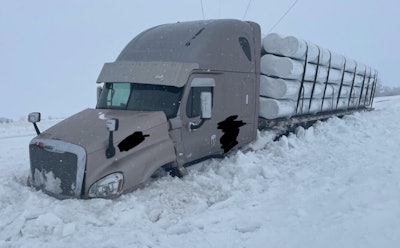 South Dakota Highway Patrol
Despite the technical arrival of spring, winter-like weather continues to bedevil truckers in South Dakota.
A late-season snowstorm made travel on Interstate 29 and other highways hazardous.
The South Dakota Highway Patrol posted on social media that a tractor-trailer slid off of I-29 at the New Effington exit "due to the inability to see the road."
New Effingham is located in the northeast corner of the state about 187 miles north of Sioux Falls and close to the North Dakota and Minnesota borders.
SDHP reported there were numerous trucks and cars stuck on I-29 between Summit and the North Dakota border
FedEx Freight to stand alone as company consolidates
FedEx Corp. announced Wednesday it will consolidate its operating companies into one organization, creating efficiencies that will enhance the company's ability to meet the evolving needs of customers and ultimately build a stronger, more profitable enterprise.
This transition, with full implementation expected in June 2024, will ultimately bring FedEx Express, FedEx Ground, FedEx Services, and other FedEx operating companies into Federal Express Corporation, becoming a single company operating a unified, fully integrated air-ground network under the respected FedEx brand.
FedEx Freight will continue to provide less-than-truckload freight transportation services as a stand-alone company under Federal Express Corporation. Raj Subramaniam will serve as president and CEO of the combined organization.
FedEx said the new structure will help facilitate the company's efforts to improve the efficiency with which FedEx picks up, transports, and delivers packages in the U.S. and Canada. In addition, the unified organization will bring a distinct focus on the air network and international volume, as well as a more holistic approach to operations on the ground utilizing both FedEx employees and contracted service providers, according to a statement from FedEx.
Semi burns at Ohio truck stop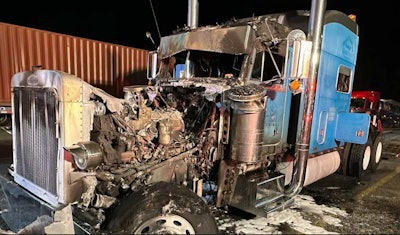 Firefighters responded to a semi-truck fire at a truck stop in Girard, Ohio early Tuesday morning.
Firefighters from the Weathersfield Fire Department were called at about 3 a.m. to the Petro Truck Stop on Salt Springs Road. Upon arrival, firefighters found the semi fully involved.
No injuries were reported.
ICYMI
Two veteran truckers win TA's 10th annual Citizen Driver Awards
Driver Poll: How do you manage the stress of the job?
Continental Express' David Wolford named Ohio's Driver of the Year