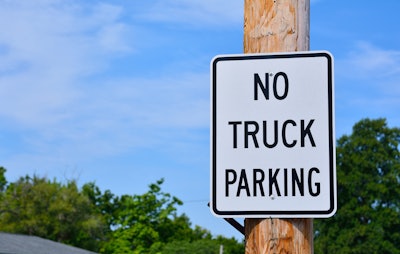 The city of St. Paul is considering a ban on trucks parking on any street in the city, and the state's trucking association is speaking out against the ban, which is similar to the one passed in 2021 by Minneapolis, the other Twin City.
The St. Paul City Council is expected to act on the proposed ban today. The proposed ban is said to address safety issues.
John Hausladen, president of the Minnesota Trucking Association, which said it "strongly opposes" the ban, said, "Professional truck drivers who deliver our essential food, medicine and supplies through good times and bad deserve better."
A statement from the association said:
"The economy is struggling, small trucking companies are closing their doors and the trucking industry is facing a shortage of qualified drivers. At a time when we should be removing barriers, this proposed ordinance erects new ones.
"The proposed ordinance will reduce overall efficiency and cut into precious available driving hours for truck drivers forced to park outside of St. Paul. It is a simple fact that to meet narrow pick-up and delivery windows, trucks need to park close to their St. Paul customers. When Minneapolis passed a similar ordinance some drivers were forced to park in remote fee-based lots as far away as St. Cloud.
"Many of the trucks parked overnight are owned by independent contractors who live within St. Paul. These small businesses, many of whom are owned by people of color, have no viable overnight parking alternative. This ban could effectively force these residents to cease operations and lose their livelihood.
"According to the U.S. Department of Transportation (USDOT), 98 percent of truck drivers regularly experience difficulties finding safe parking—a sharp uptick from the 75 percent figure reported just four years earlier. USDOT also found that the truck parking shortage exists in every state and region. Year after year, truck drivers have indicated that the parking shortage is one of the top three challenges they face, rising to number one in 2022.
"Despite repeated requests during the recently completed Session, the Minnesota Legislature failed to appropriate funds to expand truck parking.
"We urge St. Paul to step up and craft a real solution that balances parking management concerns with the need to support efficient freight flow and these small businesses on wheels."
Minneapolis fines illegally parked trucks $150. That increases to $250 next year.