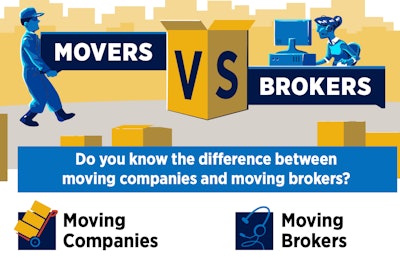 FMCSA
The Federal Motor Carrier Safety Administration says its efforts to protect consumers against fraudulent household goods movers and brokers are paying off.
Earlier this year, FMCSA launched Operation: Protect Your Move in response to what the agency said was a "significant uptick in complaints of movers holding household goods hostage and extorting exorbitant additional charges from consumers." As part of the agency's three-week enforcement sweep to curtail household goods moving scams, dozens of agency personnel conducted more than 100 investigations across 16 states.
The FMCSA said the targeted work resulted in over 60 enforcement actions that may lead to the revocation of operating authority for some movers and brokers.   
"FMCSA takes very seriously its responsibility to help protect consumers when moving their household goods across state lines," said FMCSA Administrator Robin Hutcheson. "We've made great progress in identifying scam movers and brokers, but we can't do this alone. We must work with partners across federal and state government to make the greatest impact."  
The agency established the Household Goods State Enforcement Partnership Program to maximize the impact of collective efforts. Through this program, participating state agencies have access to FMCSA enforcement databases, free training on federal regulations and laws, and will participate with FMCSA on joint investigations to support increased enforcement actions.
Eleven state agencies have signed on, including the Attorneys General offices for Arizona, Arkansas, Florida, and Texas. Four additional state partners are expected by the end of summer.  Additionally, FMCSA formed an internal technical advisory group to help guide future efforts.
 The FMCSA National Consumer Complaint Database remains available, and consumers may file complaints or research the history of movers and brokers registered with FMCSA.  The agency also updated its consumer toolkit.
Man arrested for shooting of CDL school owner
A 35-year-old Texas man was arrested in connection with the fatal shooting of the owner of a CDL training school.
The suspect, Julio Diaz, was arrested Tuesday. He is accused of shooting 55-year-old Robert Wise Monday night after attending an event at a Masonic lodge in McAllen, Texas.
Police did not release a motive for the shooting.
Wise was the owner of Wise CDL, a trucker training school in Edinburg.
Truck heater maker celebrates 50th anniversary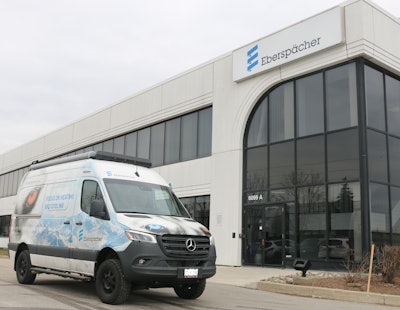 Eberspaecher Climate Control Systems, maker of heaters for Class 8 trucks and other vehicles, Wednesday celebrated the 50th anniversary of its facility in Mississauga, Ontario, Canada west of Toronto.
The facility manufactures vehicle heaters, energy storage systems, and air conditioning systems for customers throughout Canada, the U.S., and Mexico.
The company is the oldest overseas subsidiary of the Eberspaecher Group, which is based in Esslingen, Germany.
The German automotive supplier founded Espar Products, as it was originally known, to start its North American operations in 1973 when it saw the potential of the local market for its core product: the engine-off pre-heater.
"Half a century of successful operations – this is indeed a unique and outstanding performance," said Martin Peters, managing partner of the Eberspaecher Group. "Happy anniversary to our Canadian team here in Mississauga. This also demonstrates how the long-term thinking and commitment of a family-owned business can pay off."
The facility has some 100 employees.
ICYMI
Retirement: Not a choice for many drivers; a lot say they can't afford it
Ryder adds three more truckers to its Driver Hall of Fame
New Truckers Gear Guide comes with tips for a better life on the road