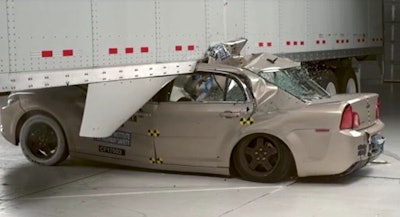 Insurance Institute for Highway Safety
The comment period on the National Highway Traffic Safety Administration's Advanced Notice of Proposed Rulemaking for side underride guards on large trucks closed last week.
A review of many of the more than 1,900 comments posted online or submitted by mail finds two things:
The trucking industry is largely opposed to the proposed regulation
The League of American Bicyclists has plenty of backers of its support for the proposed rule
In fact, many of the commenters supporting the proposed regulation began their missives with, "I am writing in support of the League of American Bicyclists comments to Docket No. NHTSA-2023-0012: Side Underride guards. Thank you for inviting comments on the Advanced Notice of Proposed Rulemaking (ANPRM) for side underride guards on large trucks, because it is an important issue for vulnerable road users."
In its comments on the proposal, the league said, "The League of American Bicyclists believes these guards are needed because 11 percent of bicyclists and 7 percent of pedestrian roadway fatalities occur in crashes with large trucks. From 2016-2020, 2,745 vulnerable road users died in crashes with large trucks."
The Institute for Safer Trucking and Road Safe America also supported the side underride guard proposal. It said: "Side guards are life-saving devices that should be required on as many trailers and semitrailers as possible. Too many lives are needlessly lost or drastically altered because of a vehicle design flaw that severely endangers passenger vehicle occupants and vulnerable road users that collide with the side of a trailer or semitrailer and travel underneath. By requiring side guards, we can finally address this problem and make our roads safer for all who share them. Side guards should be required on single-unit trucks as well as trailers and semitrailers."
To no great surprise, the trucking industry weighed in heavily in opposition to the proposed regulation.
The Owner-Operator Independent Drivers Association concluded its lengthy opposition to the underride guards proposal by saying, "Nobody cares about road safety more than truck drivers and every single truck driver wants to operate in a safe environment to return home just like drivers in passenger vehicles. NHTSA has considered numerous options involving side underride guards, but has consistently concluded a federal mandate would be impractical and costly, thus outweighing any safety benefits. Any potential mandate also fails to recognize numerous other issues limiting the practicality of side underride guards. The latest NHTSA analysis indicates that a side underride requirement comes with a roughly $1 billion price tag without even accounting for various operational cost estimates. Any move by the agency to advance such a measure is premature and shortsighted."
The American Trucking Associations voiced a similar opposition. Concluding its comments, ATA said, "ATA opposes the proposed requirement to install side underride protection on all newly manufactured trailers. ATA appreciates the opportunity to comment on this rulemaking and would be happy to provide additional information on its policy, information about safety and operational concerns, or examples of concerns described above. ATA encourages DOT to take a more holistic approach to addressing side underride crashes as part of a broader crash prevention strategy, and to utilize the Advisory Committee on Underride Protection for exploring specific technologies or strategies."
The Truckload Carriers Association also weighed in with its opposition to the proposed rule as written. In its comments, TCA said: " In reviewing the ANPRM, our members have expressed concerns over the following issues regarding an industry-wide mandate of this proposed equipment:
Lack of options available leads to the scarcity of experimental data
The advancement of accident prevention measures already in place
The realization that this will not prevent accidents from happening
The incorporation of additional weight"
Wener Enterprises, a major carrier based in Omaha, Nebraska said in its comments that it agreed with the ATA's opposition and added, "Werner supports enhanced safety technology on tractors and trailers. However, in this case, Werner agrees with earlier comments submitted by American Trucking Associations, Inc., that additional research and testing is required prior to mandating side underride protection on newly manufactured trailers."
The American Truck Dealers also said more research is needed before side underride guards are required. In its comments, the association said in part, ":ATD acknowledges that side underride guards may reduce the likelihood of serious injury or death resulting from crashes with CMV trailers and semitrailers in certain circumstances and supports NHTSA's efforts to obtain additional information through the ANPRM to study CMV side underride crashes. However, given the incomplete nature of the available research and data, as well as the exorbitant costs and detrimental impacts to CMV operators and carriers, ATD does not support a side underride guard mandate and urges NHTSA not to proceed with a formal rulemaking."
The National Association of Trailer Manufacturers also voiced its opposition in comments on the proposed rulemaking. It said, in part, "The proposed rulemaking concerning side underride guards aims to enhance road safety by preventing passenger vehicles from sliding underneath the sides of trailers during collisions. While the proposed regulation is commendable in its intention to reduce the severity of accidents, it is overly broad and fails to consider the differences between heavy- and medium-duty trailer designs and the functional impact the proposed regulation would have on medium-duty trailers. Due to the wide range and unique nature of products considered "trailers" as defined in the Code of Federal Regulations, NATM urges NHTSA to evaluate the language used in this proposed rulemaking to specify which category of trailer this side underride rulemaking would apply to, so that the requirements are appropriately calibrated to the many different trailer product categories."
Individuals also weighed in with their opposition.
Rebecca Reed wrote: "Please don't mandate side underride guards on commercial semi-trailers. Let them be company spec'd ONLY! It is going to cost companies hundreds, if not thousands of dollars, per trailer to install and add unnecessary weight that will cut down profitability. In addition to company costs, trailers with these side underride guards now become issues at railroad crossings, docks that aren't perfectly level from dock door to drive wheels, and other situations where the side underride guards are going to scrape pavement, brush up against curbs, landscaping, etc, which will either damage the equipment, obstacles, or both. In addition, how will drivers and maintenance personnel be able to do proper inspections of equipment when they can't visually see or physically touch cross-members and other parts of the underside of the vehicle without pulling off the guards? Will these guards be able to withstand the weight of snow and ice in northern climates without compromising structural integrity? If involved in an accident, will these guards create more problems for first responders or make accidents much worse? How many train operators will be hurt or killed when one of these trailers gets stuck on a track and the train can't stop in time? These are things to consider when you look into this mandate."
James. Sullivan said: I'm strongly against the underride guard proposal. The federal regulatory agencies need to move their focus off of truckers and focus more on educating the motoring public on how to coexist with trucks. To keep pounding regulation after regulation on the industry that actually moves the economy is, to be blunt, stupid and misguided. Every time a new regulation gets forced upon us, it just adds massive costs to an already stressed business. Small businesses especially. The percentage of accidents involving heavy trucks is overwhelmingly caused by the four-wheeler. Yet, the focus and attention is always on the truck side. Maybe it's time to rethink how we're going about making our highways safe and start focusing on the REAL problem. The motoring public. I'm a 38-year, 3 million-mile, accident-free veteran in this business. So, I believe my experience is totally being disregarded by people who know little to nothing about driving a truck and are making the rules and regulations that affect it. Change how you think or the business will suffer as will our standard of living."