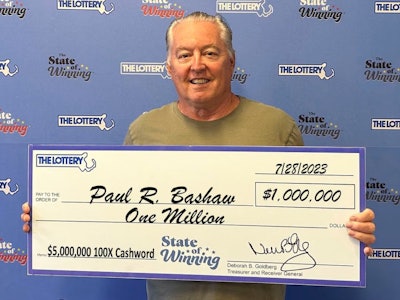 Massachusetts Lottery Commission
A longtime truck driver recently hit it big in the Massachusetts State Lottery.
Paul Bashaw, a 20-year trucker from West Boylston, won $1 million playing a $20 scratch ticket from the game "$5,000,000 100X Cashword".
He told his employer on July 17 that he was retiring in two weeks. He bought the winning ticket three days later and finished out his time on the job.
He claimed his winnings July 28.
Bashaw took the option of receiving his winnings in a lump sum payment of $650,000.
He told the lottery commission he was going to use the money to travel.
Driver dies in collision with freight train
A 25-year-old truck from Borger, Texas died when his tractor-trailer was struck by a train in rural west Texas.
Brent Michael Spahich was on Highway 84 two miles west of Amherst Monday, July 31, when he crossed railroad tracks. His truck was struck by a Burlington Northern Santa Fe freight train.
Spahich died on the way to a local hospital.
Five cars of the train were derailed. No one on the train was injured.
ICYMI
Brakes and hours of service lead Roadcheck out-of-service violations
Canadian carrier acquires 200-truck truckload company in U.S. Southeast
Driver Poll: If you left your current job, what would you do instead?