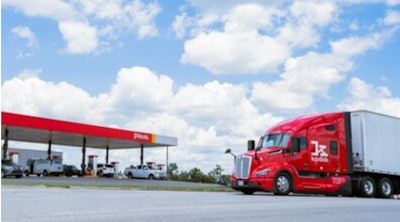 Kodiak Robotics
Kodiak Robotics, Inc., a self-driving trucking company, and Pilot Company, an operator of travel centers in North America, recently announced the opening of their inaugural truckport. The facility, located at the Pilot travel center in Villa Rica, Georgia, will be used by Kodiak to launch and land autonomous trucks and will serve as a convenient hub for drivers to pick up and drop off first- and last-mile deliveries. The Villa Rica truckport will support Kodiak's 18,000-mile-long autonomous deployment network.
"Partnering with Pilot Company to build the Villa Rica truckport ensures that we have access to the truckport services we need, utilizing Pilot's industry-leading travel center network," said Don Burnette, founder and CEO of Kodiak Robotics. "This partnership, combined with Kodiak's flexible technology stack, enables our scalable, asset-light approach to building our truckport network. The freight lane between Dallas and Atlanta is critical to the nation's supply chain and economy, and this truckport enables us to refine our operations model as we continue to grow."
The new truckport in Villa Rica, Georgia will serve as an eastern satellite hub for Kodiak's network, while the company's Dallas-Fort Worth hub will continue to serve as the main terminal for its autonomous truck fleet, according to a statement from the company. Additional comprehensive services at the truckport will include refueling at the Pilot Travel Center, light maintenance, and pre-trip inspections, including Enhanced Inspections specifically designed for self-driving trucks.
In August 2022, Pilot Company announced that it had made a strategic investment in Kodiak and joined its board of directors. Kodiak and Pilot are exploring further expansion within Pilot's national travel center network. The opening of the Pilot Villa Rica truckport follows Kodiak's recent partnership announcements with Loadsmith, C.R. England and Tyson, IKEA, Werner, Forward and more.
Heartland Express honored again by FedEx
Heartland Express, Inc. recently received two service awards from FedEx Express for fiscal year 2023 (period June 1, 2022 through May 31, 2023). Heartland Express has been awarded both the FedEx Express "Platinum Award for 99.98% On-Time Service" and "FedEx National Carrier of the Year" award.
Heartland Express has received the distinguished "Carrier of the Year" award from FedEx Express 16 times in the last 17 years and now 13 years in a row. Heartland Express has again reached nearly perfect service levels at 99.98% on time, on more than 21,000 shipments during the year, according to a statement from the company.
"This year has truly been an amazing accomplishment in a challenging operating environment, and we couldn't be prouder of our professional drivers and our entire team, said Heartland Express CEO Mike Gerdin. "Their dedication and determination are focused on delivering only the best service each day and has resulted in a long list of current and past awards. Heartland's motto of 'Service for Success,' and our foundation of disciplined operational processes are behind our ability to deliver these outstanding results year after year. The collective teamwork among the employees of Heartland Express and the employees of FedEx Express is a tremendous long-term affiliation over the past twenty-two years. We look forward to many more successful years ahead."
ICYMI
Ohio trucker fined $2,347 after getting stuck on notorious VT road
OnLine Transport continues acquisitions; buys A/T Transportation
Driver Poll: How important are eco-friendly practices when choosing a company to work for?