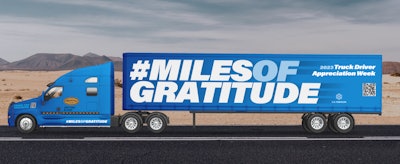 C.H. Robinson
Global logistics company C.H. Robinson recently announced an initiative to honor truck drivers. Timed with Truck Driver Appreciation Week 2023, which runs Sept. 10 through Sept. 16, C.H. Robinson is launching a "Miles of Gratitude" tour and thank you campaign to celebrate and show appreciation for truck drivers across the nation.
To help spread awareness and honor the critical and demanding work of a truck driver, the "Miles Of Gratitude" tour will launch Monday, Sept. 11 in Minnesota and then travel cross-country, stopping at eight different truck stops where Robinson employees will be giving away gift cards and access to one free cash-advance payment to truck drivers.
For every mile traveled, the C.H. Robinson Foundation will donate $10 to the St. Christopher's Truckers Relief Fund, which helps truck drivers in need. Additionally, to encourage others to participate in the national thank you campaign, Robinson will donate another $10 for every truck driver thank you note posted on social media with #MilesOfGratitude, up to $50,000 total.
RELATED NEWS: Businesses offering National Truck Driver Appreciation Week specials
The Miles of Gratitude tour, featuring one of C.H. Robinson's 2023 Carrier of the Year Award winners, Timmons Transit, will visit truck stops near Minneapolis, Madison, Chicago, Columbus, Atlanta, St. Louis, Kansas City, and Dallas as well as the headquarters of the Owner-Operator Independent Drivers Association in Grain Valley, Missouri. You can see the specific times and locations of stops along the tour here.
"Truck drivers play such a key role in our industry and our world, and they sacrifice a lot to make it all possible. From endless miles on the road, to nights away from the family – we want to make sure this week especially, they know how much we at C.H. Robinson appreciate all they do," said Mac Pinkerton, president, North American Surface Transportation at C.H. Robinson.
"We appreciate our carriers year-round, but it's especially exciting when C.H. Robinson employees can get out and greet these road warriors in person, surprising them and finding new ways to say thank you during this important week," added Pat Nolan, vice president, North American Surface Transportation. "We hope others across the industry and the nation join in the thank you campaign. It's hard to look anywhere and not see something that a truck driver helped make possible."
Truck drivers unable to attend a truck-stop celebration can still enjoy another truck driver appreciation week bonus – a one-time free digital cash advance payment, making it easier for carriers to get paid instantly. Carriers hauling a load for C.H. Robinson can request up to 60% of payment, with zero fees during the week of Sept. 10- Sept. 16th. Visit here to view details on the week's events and the specific tour page for locations.