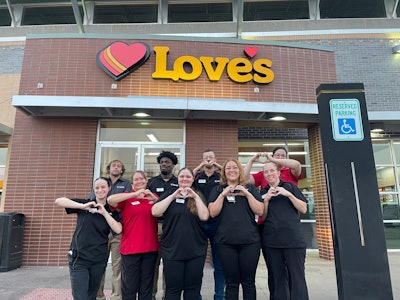 Love's Travel Stops
The former EZ GO location near Chickasha, Oklahoma, has been rebranded as a Love's Travel Stop.
Following the recent conversion of the location, customers can now enjoy Love's snacks and discounts through Love's loyalty program on the Love's Connect app.
Chickasha is the second EZ GO location on the H.E. Bailey Turnpike to be rebranded following Walters, and the fifth store to be rebranded overall. Love's will rebrand the remaining six EZ GO turnpike stops in Oklahoma and Kansas in the coming weeks, with work scheduled to be completed by the end of October, weather permitting.
In April, Love's acquired EZ GO from Oklahoma-based Carey Johnson Oil Company. The acquisition included six travel stops on Oklahoma turnpikes and five on the Kansas Turnpike. The turnpike locations are the first ever for Love's.
C.H. Robinson opens large new facility in Laredo, Texas
C.H. Robinson today announced it has opened a new cargo facility along the U.S.-Mexico border in Laredo, Texas.
A statement from the company said the new facility has:
400,000 square feet
154 dock doors
room for 700 trailers
Unlike most cross-docks in Laredo that are single-sided. C.H. Robinson's new facility is one of the few with dock doors on both sides, which greatly accelerates the transfer of freight from Mexico carriers to U.S. carriers, according to a statement from the company.
"It typically takes three trucks to bring a shipment through Laredo. A Mexico carrier brings the trailer to the border, a Mexico transfer carrier takes it across, then the freight is unloaded and reloaded onto a U.S. carrier's trailer," Burkhart said. "Because our cross-dock is significantly larger than most, has more dock doors than most and has dock doors on both sides, we can immediately unload freight when it arrives. It also reduces the reloading time, because forklift drivers don't have to crisscross the building. On a day when 350 loads are being picked up, if you reduce load time by an average of 10 minutes, that saves nearly 60 hours in one day."
ICYMI
National Truck Driver Appreciation Week begins; busy week ahead
Numerous local governments say they oppose bigger, heavier trucks
New Truckers Gear Guide focuses on that essential tool, the CB radio
Tennessee-based US Multimodal Group acquires Overland Express