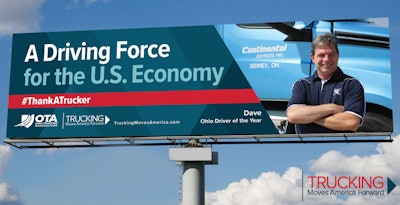 TMAF
Trucking Moves America Forward supports the annual National Truck Driver Appreciation Week with a public awareness campaign to acknowledge and support America's professional truck drivers.
"We are honored to pay homage to America's professional truck drivers on the front lines who supply our nation with everything we need, moving 11.5 billion tons of the nation's freight each year," said Kevin Burch, TMAF co-chair and M.T.S. VP Sales & Governmental Affairs. "I am proud of the participation of the state trucking associations and companies who joined the TMAF #ThankATrucker program to showcase their safest truck drivers and be part of the groundswell of countrywide celebrations."
TMAF secured significant participation this year for its monthlong annual #ThankATrucker billboard advertising campaign from state trucking associations and companies, totaling 32, the most during any NTDAW timeframe. Impressions from the campaign will total more than 26 million.
RELATED NEWS: National Truck Driver Appreciation Week begins; busy week ahead
Participating associations and companies include Alabama Trucking Association, Arkansas Trucking Association, Baylor Trucking, Inc., CB Wilson Transport LLC, Idaho Trucking Association, Iowa Motor Truck Association, Kentucky Trucking Association Inc., Louisiana Motor Transport Association, Ohio Trucking Association and Preferred Materials, Inc.
Billboards are on display along America's interstates and freeways over the next four weeks through October 10, 2023, in the following markets: Birmingham, Dothan, Huntsville, Mobile and Montgomery, Ala.; Bryant, Clarksville, Little Rock, Wheatley, Ark.; Northern Idaho; Indianapolis, Ind.; Cedar Rapids and Des Moines, Iowa; Bowling Green and Louisville, Ky; Alexandria, Lafayette, Monroe (2), Northshore, Shreveport (2) and Thibodaux, La.; Cincinnati, Cleveland, Columbus, Dayton, Lima and Toledo, Ohio; Portland, Tenn.; Blackstone and Richmond, Va.
The billboards feature award-winning drivers with their trucks from their respective state under the creative directions: "Trucking Feeds America," "Trucking Builds America" and A "Driving Force for the U.S. Economy."
Radio spots to thank America's truck drivers can be heard this week on Red Eye Radio and the TruckersPodcasts, and educational ads for the motoring public, are airing on Westwood One talk radio and Westwood One Sports. The spots can be found here: https://truckingmovesamerica.com/resources/2023-advertising/.
The TMAF #ThankATrucker campaign also includes social media content for all of its channels: Facebook, Twitter, Instagram, LinkedIn, YouTube and Threads. "A Driving Force for the U.S. Economy, Retail, Small Businesses, Manufacturing and fall activities" is the theme.