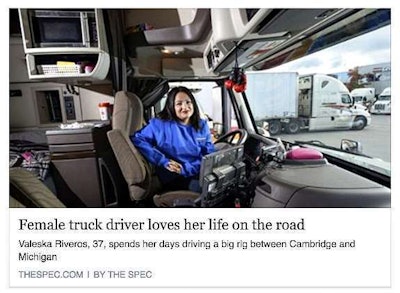 Like many women who get into the trucking industry, driving was not Valeska Riveros' first job, but it appears to be her favorite.
The 37-year-old Canadian who drives for Challenger Motor Freight Inc. out of Quebec, Canada told the Hamilton Spectator: "I love this job. I don't know how I didn't do this before."
The Spectator adds:
"Riveros came to trucking after spending about 10 years working in Kitchener at the Schneider's meat packing plant. When that factory closed, she was offered a job in Hamilton at the new, amalgamated Maple Leaf factory. For Riveros, the work was monotonous and unfulfilling — and she was getting paid $3 less an hour.
"'From one day to the next, I just decided I was going to be a truck driver,' she said. 'And off I went. It's been an adventure for sure.'"