There was a time, if you believe what movies and TV of the 1950s and '60s told us, that every red-blooded American girl had a small notebook in which she wrote her most personal thoughts; ones so secret they were kept under a tiny lock and key.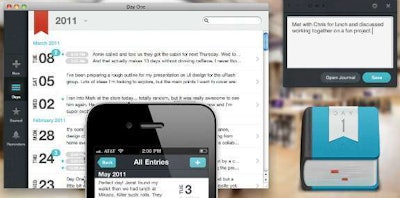 Movies, TV and girls have changed since then, but the idea of keeping a journal — the grown up version of a diary — is getting more traction as a way to help women set and chart their goals, keep track of important details and even just make notes about what went well for them.
Of course, journaling, like many other things, can best be done with an app and on the smartphone that rarely leaves your side.
If one of your New Year's resolutions is to keep a journal of 2017, there are some apps that can help.
DayOne is a robust journaling app, which provides a way to keep track of your most personal thoughts and plenty more. The downside: It's for iPhones, iPads and Macs only. DayOne allows you to track daily events, add photos, tags your location and even makes a notation of the weather. It'll also go so far as to remind you to make a journal entry. DayOn for iPhone and iPad is $4.99 but a whopping $39.99 if you'll be using it on your Mac.
Journey is a good app for those who want to use an Android device for writing in their journals. It is as feature-rich as DayOne, provides security, reminders, handles photos and includes daily motivational tips. $4.99 online.
Bliss comes with a distinct purpose, a good one. Instead of a simple journal, the free app is built to help you become a more positive person. It helps you meditate on the previous day to improve their mental outlook. Bliss is free.