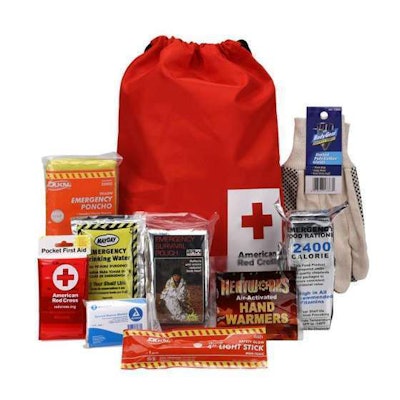 Maybe your truck breaks down in heavy snow. Maybe you find yourself stranded in a low traffic area in falling temperatures. Whatever winter problems you may encounter, the American Red Cross has put together a Winter Auto Survival Kit to help you make it through.
The inside a nylon string back pack, the kit includes:
six emergency food bars
a pair of dotted poly-cotton gloves
an emergency bulk blanket
rain poncho
a 12-hour emergency light stick
a 4-ounce emergency water pack
a mini first aid kit with: five adhesive plastic bandages, three adhesive fabric bandages, five junior adhesive bandages, one knuckle fabric bandage, two antiseptic cleansing wipes, a triple antibiotic ointment packet
The Winter Auto Survival Kit is available from the American Red Cross for $39.95.