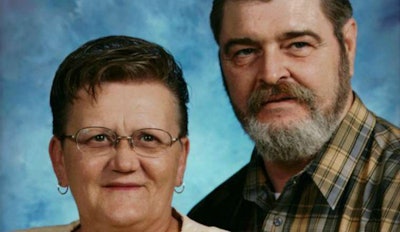 A severe wreck in 2010 should have ended Cathy Guignet's trucking career. She was driving down I-71 in Arkansas when another truck in the oncoming lane slammed into hers on a bridge. Both their trucks caught fire, and the accident left Guignet with a long list of injuries.
She was bobtailing on her way to pick up a trailer, and the other truck was a flatbed. That truck ran up on a pickup truck with a trailer that was driving slow, she says, and the other trucker locked up his breaks to try and avoid hitting the pickup. This caused the other trucker to skid 276 feet and crash into Guignet.
The two discs in her neck were crushed and her right shoulder was broken. Bones in both her hands were crushed, her throat damaged and her left foot was broken in three places. Guignet says she also sustained brain damage.
Yet somehow, she recovered to the point where she still drives a truck.
Guignet, now 68, started driving in 1976 and had always viewed safety as a top priority. Her accident made safety even more important to her.
"It's not just knowing the regulations. It's knowing how to properly handle these rigs," she said.
Even with her accident, there's no career Guignet would rather have. She became interested in trucking when she and her husband hitched a ride with a trucker. She'd grown up near farms and had been around trucks all her life, but that ride along motivated her to become a driver herself.
"I watched everything this guy did and the more I watched him and the more questions I asked, the more fascinated I became. I decided I was going to drive a truck. I didn't know how I was going to do it, but I was going to drive a truck," she said.
She has plenty of experience under her belt, but she's maintained a student's mentality throughout her career. Everyday she strives to be a better driver.
"Everyday is a challenge. What can I do better today? I don't compare myself to anyone else. I compare myself to me. What did I do yesterday that I could do better today? What can I do today that will impress a customer for the company?" Guignet said.
Today she's a company driver for GTB Transport, headquartered in Amity, Arkansas. She's written safety-related articles and always chats with other trucker's about the importance of safety when she's at truck stops.
"I always viewed safety as vitally important but [my wreck] brought it out to an extent that I'd never experienced it before," Guignet said.