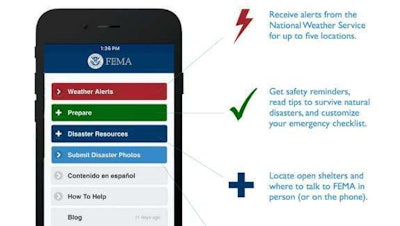 Being on the road — usually alone and often in an unfamiliar location — can leave one feeling vulnerable when there is an emergency.
Not only do you have concerns about what to do if disaster strikes where you are while driving, but also if there are problems back home.
An app from the Federal Emergency Management Agency can can help you avoid problems, or find assistance if you can't.
The app is available for iOS and Andriod and provides alerts from the National Weather Service for up to five locations across the U.S. and see information about how to stay safe.
Other features include:
Disaster Reporter: Upload and share photos of damage and recovery efforts that might help first responders.
Maps of disaster resources: Locate and receive driving directions to open shelters and disaster recovery centers.
Apply for assistance: Easily access DisasterAssistance.gov to apply for federal disaster assistance.
Custom emergency safety information: Save a custom list of the items in your family's emergency kit, as well as the places you will meet in case of an emergency.
Safety tips: Receive safety and preparedness reminders and learn how to stay safe before, during, and after over 20 types of hazards, including floods, hurricanes, tornadoes and earthquakes.
Information is available in English and Spanish.