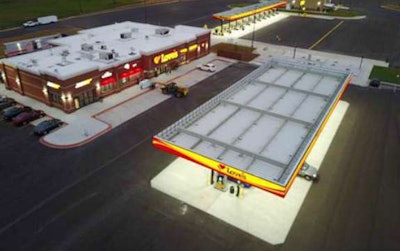 Love's Travel Stops opened two new locations Thursday, April 28 in Macon, Georgia, and Upper Sandusky, Ohio.
The Macon travel stop is located at Interstate 75 and Sardis Church Road (Exit 153). The Upper Sandusky facility is located at U.S. Highway 23/30 and State Route 199.
Combined, they add more than new 170 truck parking spaces to the Love's network.
The Macon travel stop offers:
seven showers
Subway
Chester's Chicken
Godfather's Pizza Express
. The Upper Sandusky location has:
60 truck parking spaces
seven showers
Hardee's restaurant
Both travel stops are open 24/7 and offer Love's Truck Tire Care centers, CAT scales and DEF.
Love's has more than 420 locations in 40 states.