It's almost an unavoidable natural reaction to grope for our smartphone and hit the snooze button on its alarm come the morning. However, while these slow cooker recipes may not make you a morning person, they just might entice you to at least crawl out of your bunk for breakfast.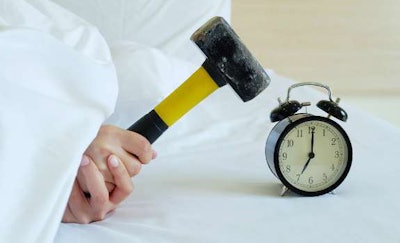 Slow Cooker Caramel Rolls
The only thing easier is to go through the drive-thru at Tim Hortons. These take three ingredients and about an hour in the slow cooker. Get the details at All Free Slow Cooker Recipes.
Slow Cooker Breakfast Casserole
This is a bit more work and takes more ingredients, but it's worth the extra effort. It truly is a complete breakfast in one dish: potatoes, bacon, eggs and cheese. It takes about four hours on low or eight hours on warm, so this is one you can make and wake up to if you time it right. Get the recipe and instructions online at CincyShopper.com.
Overnight Slow Cooker Oatmeal
Forget about those little packets of instant oatmeal that are more instant than oatmeal. Instead, this slow cooker recipe combines steel cut oats, coconut milk, apples and nuts to make a hearty bowl of oatmeal you will look forward to. It takes from five to seven hours cooking on low, according to the nice folks at thefitchen.com.
Slow Cooker Mexican Breakfast Casserole
Mexican food is not just for dinner or the late night burrito after a long day's drive. This recipe takes about four hours on low heat and yields a breakfast loaded chorizo or sweet Italian sausage, salsa, jalapeño chile and bold Mexican flavors. Believe it or not it comes from BettyCrocker.com.
Crock Pot Banana Bread
This recipe fills you up to start the day and makes enough that you have leftovers for later too. It requires three bananas and cooks on low for four hours. Note that this bakes in a conventional bread pan, using your slow cooker like a conventional oven. Get the details at tammileetips.com.