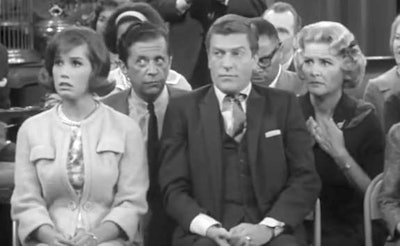 There was a time when life was simpler, less contentious and usually filmed in black and white.
That life — at least some slices of it — can be found again on Netflix, which has several classic television shows for your streaming pleasure. Available for some TV time travel are:
The Andy Griffith Show: This CBS comedy aired from 1960 to 1968 and chronicled day-to-day life in Mayberry, North Carolina and its helpful Sheriff Andy Taylor (Griffith), over-reactive deputy Barney Fife (Don Knotts), Andy's son Opie (Ron Howard) and Andy's spinster aunt and housekeeper, Aunt Bee Taylor (Frances Bavier). Major trivia points if you knew The Andy Griffith Show spun off from The Danny Thomas Show.
The Dick Van Dyke Show: If The Andy Griffith Show was small town country living at its best, The Dick Van Dyke Show, on CBS from October 3, 1961 to June 1, 1966, was all about suburban life since it was set in New Rochelle, a suburb of New York City. Rob Petrie (Van Dyke) is the head writer of a comedy show, Mary Tyler Moore is his adoring wife Laura. He works with two other wise-cracking writers Buddy Sorrell (Morey Amsterdam) and Sally Rogers (Rose Marie). Hijinks ensued.
The Twilight Zone: Created and mostly written by Rod Sirling, this was one of the most successful of the early TV shows built around science fiction, fantasy, horror and psychological thrillers. A signature of the show was Sirling's clipped, serious introduction of the night's episodes.
Cheers: For 11 seasons, Ted Danson was the mostly-cheerful bartender and former Red Sox relief pitcher Sam Malone. He served up drinks to a variety of local characters and had a long-time flirtation with waitress and grad student Diane Chambers (Shelly Long). Cheers gave life to another wildly successful TV show, Fraiser, named for Fraiser Crane, the snooty psychologist and bar patron played by Kelsey Grammer. It also gave birth to a chain of restaurant/bars.
Star Trek: Almost 50 years ago, a sci/fi show debuted and gave the world the Starship USS Enterprise, Capt. James T. Kirk, Tribbles, and the admonition to, "Live long and prosper." Netflix has the first three seasons for streaming, giving you the opportunity to do a little time-travel and see how it all began.
Fawlty Towers: You most likely remember John Cleese as one of the members of the British comedy troupe Monty Python's Flying Circus. But he also was Basil Fawlty, the struggling proprietor of a British seaside hotel in the BBC's comedy Fawlty Towers. It aired from 1975 to 1979 and topped the list of the 100 Greatest British Television Programmes compiled by the British Film Institute.