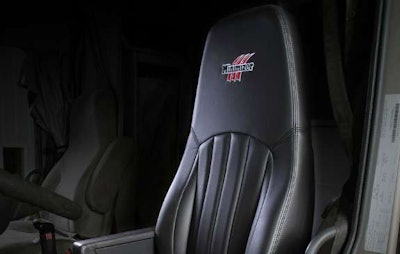 A continuing complaint from women in the trucking industry is that many of the seats in the cabs of their truck are not suited to them.
The Minimizer Long Haul Series Seat addresses that issue, by being highly customizable to better fit individual drivers.
"Minimizer seats are not only comfortable for men, we need to remember there are women drivers, too," Minimizer CEO and Chief Visionary Officer Craig Kruckeberg said. "Unfortunately, due to their body type, certain things don't always fit them correctly, like their seat. It's one of the reasons we came out with the Minimizer Seat. It will fit anyone perfectly!"
The Minimizer Long Haul Series Seat comes with 14 standard features, all of which are used when adjusting the seat to fit any body type.
"Consider a six-four, 280-pound male truck driver in the same seat as a five-six, 120-pound female truck driver," Dr. Joseph Sweere of Northwestern Health and Sciences University said. "This is why adjustability is so important. It's a critical component, and it's one of the reasons I have so much admiration for the Minimizer Long Haul Series Seat."
"There are nearly 250,000 female truckers on the road today, and they need equipment that's going to keep them safe and comfortable," Kruckeberg said. "I'm happy to say the Minimizer Long Haul Series Seat fits the bill. I guarantee it!"