The gender scale in the trucking workforce has always been unbalanced, and by a large margin.
A 2016 study by the Women In Trucking association found that seven percent of truck drivers and 24 percent of managers in the trucking industry were female.
Statistics for 2017, when available, will likely show a greater percentage of females in both ranks.
One of the companies on the forefront of narrowing the gender gap in trucking is A. Duie Pyle.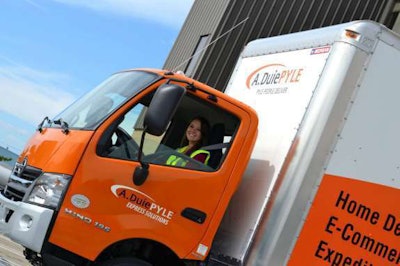 Five years ago, A. Duie Pyle, the largest Northeast regional less-than-truckload carrier, revisited its training and advancement programs to create a better succession plan for front-line leaders, managers, directors and senior leadership positions.
Rather than wait for job openings to decide who they would promote from current positions, the company's leadership wanted to take a more proactive approach to create career advancement opportunities.
"We started looking deeper to see who is in the organization who can be qualified for these type of things," he says.
The company's leadership training program works by identifying two or three people at a time who seem ready to take on more responsibility. Increasing the number of women in management was not the goal of the project, says Randy Swart, chief operating officer, but it has been of the positive results.
In many instances, at least one of the individuals selected is a woman. All of the chosen individuals go through a six-month training program where they are given "stretch projects" in different departments.
As an example, someone who works in the claims department would spend several weeks on the dock learning to be a dock supervisor to test their aptitude and mettle.
The leadership training program has helped women advance their careers. Some have moved into director-level positions in the past five years. Entry-level female staffers have taken note, and see opportunities to advance their own careers, Swart says.
The company has an internship program for college students as well. While working on the docks or in its offices, interns have the same opportunity as full-time employees to go through the leadership training program.
Swart says that two college graduates, male and female, who completed its leadership development training program two years ago have since moved from front-line leaders into operational leaders.
"They have bright futures. There is no reason to hold them back because of age," he says.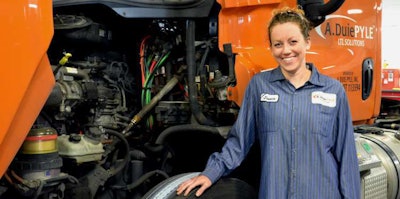 Today, A. Duie Pyle has 2,800 employees and "they all know there are opportunities other than what they are doing today," he says. As evidence, Swart says that 70 percent of the company's leadership positions, starting with a front-line leader and continuing up to a dock supervisor, operations manager, service center manager and regional director, are staffed by people that were promoted within.
Increasing the share of females in its driver ranks has been a challenge, especially in the pickup and delivery fleet where the work-life balance is more difficult, he says.
Earlier this year, A. Duie Pyle started a final-mile delivery fleet, called Express Solutions, that has opened up career opportunities for non-CDL positions as a training ground for female drivers to earn a CDL and advance their careers.
By next year, Swart says Express Solutions will have more than 100 trucks providing same-day and time-definite next-day service for smaller shipment sizes of less than 500 pounds.
Besides growing the number of female drivers, the company could see more women in the maintenance bay. It already has one turning wrenches now.
"I thought we would have had 10 percent women in our driving core before we had a woman in the fleet maintenance department," he says. "Those are the type of things that are traditionally male jobs, but if another (female) sees a woman doing it, those things are going to propagate."
This article originally appeared in Commercial Carrier Journal.