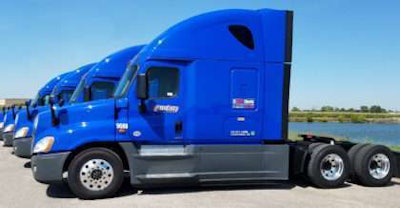 Twenty fleets have been recognized by the Truckload Carriers Association and CarriersEdge in the 2018 Best Fleets to Drive For program.
This year's 20 Best Fleets to Drive For are:
American Central Transport – Kansas City, Missouri
Bison Transport – Winnipeg, Manitoba, Canada
Boyle Transportation – Billerica, Massachussets
Central Oregon Truck Company – Redmond, Oregon
Challenger Motor Freight – Cambridge, Ontario, Canada
Erb Group – New Hamburg, Ontario, Canada
Fremont Contract Carriers – Fremont, Nebraska
FTC Transportation – Oklahoma City, Oklahoma
Garner Trucking – Findlay, Ohio
Grand Island Express – Grand Island, Nebraska
Halvor Lines – Superior, Wisconsin
Keller Logistics Group – Defiance, Ohio
Maverick Transportation – North Little Rock, Arkansas
Motor Carrier Service – Northwood, Ohio
Nussbaum Transportation – Hudson, Illinois
Prime Inc. – Springfield, Missouri
Smokey Point Distributing – Arlington, Washington
TLD Logistics Services – Knoxville, Tennessee
TransPro Freight Systems – Milton, Ontario, Canada
Veriha Trucking – Marinette, Wisconsin
Five fleets have also been identified as "Fleets to Watch" – honorable mentions for their innovative driver programs, TCA says:
Bennett Motor Express – McDonough, Georgia
Hoekstra Transportation – Grand Rapids, Michigan
Larway Transportation – Barrie, Ontario, Canada
LoadOne – Taylor, Michigan
Werner Enterprises – Omaha, Nebraska
Three companies on the list — Bison Transport, Central Oregon Truck Company and TransPro Freight Systems — have been on the list for five consecutive years.
At TCA's Annual Convention in Kissimmee, Florida, on March 25-28, two overall winners will be named "Best Fleets to Drive For" for small fleet and large fleet categories. Last year, Grand Island Express and Bison Transport won the award in the small fleet and large fleet categories, respectively.