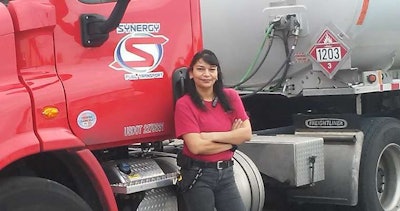 Being a local gasoline hauler in her hometown of Crestview, Florida, means company driver Nancy Myers sometimes finds herself making deliveries when other drivers might not, like during hurricanes.
Myers got her CDL three years ago and drives for Synergy Fuel Transport. During the last two hurricanes, the company left it up to the drivers whether they wanted to be on the road. Myers said she always volunteers, delivering gasoline to stations along hurricane evacuation routes.
"It was rough. People were telling me to put weights on because I'm so small. It's hard, especially when the rain is spatting at you and you're trying not to get any rain in the gas tank. It's challenging," Myers said.
Being in Florida, she also stays busy in the summertime when vacationers flock to the beaches, increasing the demand for gasoline.
"We've worked in the rain, snow, sleet, cold and the hot summer months. We pretty much do it all. That's why I say the postmen don't have nothing on us because without gas they couldn't deliver," Myers said.
Before she got into trucking, Myers was in the Army where she was trained an electrician. When she first left the service, she was doing heating and air conditioning repair but the company she worked for laid her off six months out of the year. She needed a more reliable career.
Myers said she was in a Walmart parking lot one day, sitting in her van doing her paperwork, when she saw a truck pull into the parking lot and dock. A tiny woman hopped out of the driver's seat, and Myers was floored. She approached the woman and asked her how she managed to drive such a large truck. Myers was so impressed that she decided to pursue trucking herself.
The next day, she visited a career workforce center and inquired about trucking. A local CDL school was about to start a new class the following week, but she had to acquire her permits first. She studied all weekend, tested for and acquired her permits that Monday and started driving school the next day.
Myers said when she got into the truck for the first time, it was scary. Like many new drivers, she struggled with backing. Her hands developed callouses from gripping the steering wheel tightly. She practiced over and over again until she mastered it. The first time she practiced in a tanker, she knew that was the kind of driving she wanted to do because it had fewer blindspots.
"You could see. In a box truck, you have a lot of blindspots. A tanker, you really don't. We have to back these trucks into gas stations and stuff like that. With your vision, you can see. That's where the money was, too. The more dangerous, the more they pay," Myers said.
Needless to say, trucks don't scare her these days.
"Now I drive a bomb every night so I'm not scared anymore," Myers said.
She started out driving over-the-road but hated it because she had children at home. She spent half a year on the road, but when her 19-year-old daughter, Carissa, was killed in a car accident, Myers couldn't bring herself to get back in a truck for six months. She started driving a medical bus and city bus in Panama City before she switched to delivering gasoline in her hometown. Driving locally has given her more time with her son, Johnny, 17.
Myers says any woman who wants to make a living delivering gasoline can. She said the job is physically demanding, but Myers likes that extra level of responsibility. The hoses she takes off her truck weigh anywhere from 50-110 pounds. She has to take them off to drop gasoline and put them back on each night.
"I like having control and being responsible and that's what made a big difference with this company," Myers said of her current employer. "They really rely on us. I'm a very reliable worker."