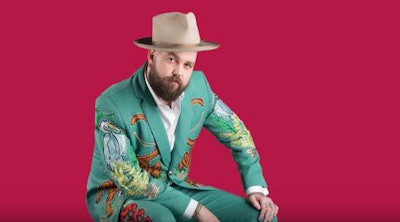 If you think the heyday of country music was the mid-1960s, then you need to hear Joshua Hedley's debut album, which arrives Friday.
Mr. Jukebox showcases the many skills of this Florida performer who last month told Rolling Stone, "… for me the genre of country music was perfected in 1965 and anything after that, albeit good, was experimentation. When it comes to making country music, my mantra is, 'If it ain't broke, don't fix it.'"
What Hedley — known as Mr. Jukebox for his ability to play just about any country song ever recorded — delivers on his first album is classic country, music that traces its lineage to Johnny Cash, Patsy Cline, Buck Owens and George Hamilton IV. The 10 cuts feature some of Nashville's best musicians in support of Hedley's smooth vocals and slick lyrics.
Worth the price of the entire album is Weird Thought Thinker. The song is a quirky tale about traveling, and is well suited for any truck's cab.
The other nice surprise is Hedley's rendition of When You Wish Upon A Star, the iconic Oscar-winning tune from Disney's Pinnochio originally sung by Jiminy Cricket in 1940.
You can hear all of Mr. Jukebox on NPR's First Listen.
1. "Counting All My Tears"
2. "Mr. Jukebox"
3. "Weird Thought Thinker"
4. "Let's Take a Vacation"
5. "These Walls"
6. "I Never (Shed a Tear)"
7. "This Time"
8. "Don't Waste Your Tears"
9. "Let Them Talk"
10. "When You Wish Upon a Star"