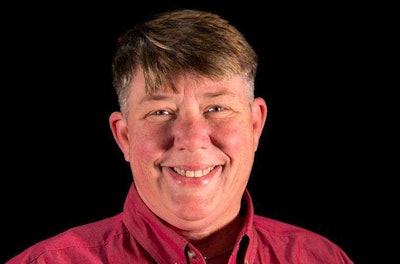 C.R. England driver Shanna Price may live in Dallas now but she hasn't forgotten her hometown roots in Houston. Her dedicated route regularly sends her back that way, which meant Price had a front row seat during Hurricane Harvey that flooded Houston last August.
"It was awful. I got to see Houston shortly after the waters receded and it was devastating," Price said. "I think that having grown up there and seeing some of the places that I knew and loved be absolutely washed away, it was difficult and it was kind of emotional."
Some of her routing was actually under water, which presented delivery challenges. She delivers a lot of insulation and many of her customers are smaller vendors in older parts of town where many big trucks don't go. Many of those customers are still recovering from Hurricane Harvey even a year later.
"Especially with all the red tape and stuff, waiting on insurance companies to pay to replace lost product and getting the money to actually start to restock the products. That was a nightmare for some of them to be able to get that together," Price said.
Her regular routes have also allowed her to witness the city's spirit. The insulation she delivers is used, in part, to help rebuild Houston.
"I loved seeing the perseverance of the human spirit. They're coming back. They're rebuilding. They're putting it back together. They're indomitable," Price said.
Price started her trucking career in 2014 after the company she previously worked for closed. She had a lot of college hours but no degree or marketable job skills, and she wanted to change that. She applied with C.R. England and was off to trucking school within a week. She's loved trucking from the moment she first got into a truck, and she appreciates the travel opportunities trucking allows her.
"The day I sat in the driver's seat of a truck for the first time I looked around and went oh, wow, this is what I should have been doing all along. This is home. They say when you do something you love you'll never work another day in your life," Price said.
Price was recently selected as one of C.R. England's Drivers of the Year, and she is also a member of the company's Road Team. She said she was honored to be selected as one of the company's top drivers.
"I was very humbled to be so well thought of by my colleagues and by my management team. I was humbled. It really made me feel like I made the right choice and I've been doing the right thing to get there and those steps and the hard work were validated," Price said.