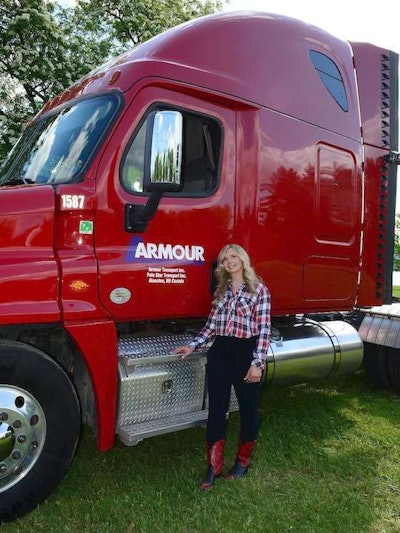 As a newly named member of Canada's first all-female trucking image team, company driver Susie De Ridder has one goal: recruit more women into the industry.
De Ridder, who drives for Armour Transportation Systems, found out she'd been accepted to  the Women in Trucking (WIT) Canadian Image Team this past Saturday during the Truck World show near Toronto. As a team member, she will travel to different industry events, conduct ride alongs, give media interviews, and more to help promote trucking to women. De Ridder was previously a board member with the Women's Trucking Federation of Canada, and is still involved in that organization as well.
"I am absolutely thrilled to be a part of it. My passion everyday is to promote more women into the trucking industry, and that's exactly what WIT is all about. To have an all-female team just makes this more awesome because we can all think together and all of our obstacles that we've faced on the road, we all can discuss them and overcome all that and help more ladies come into the business," De Ridder said.
De Ridder's father was a truck driver so she grew up riding along with him. She admired her father and wanted to follow in his footsteps, so after she graduated high school she started working in the office of a trucking company. She wanted to learn everything there was on the office level and build her trucking career from there.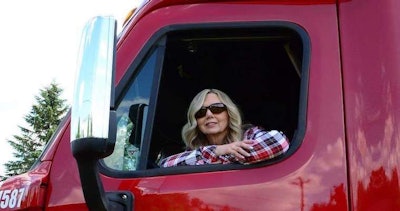 "I spent almost three years in the office there learning all the ropes from dispatch to clerical to all the different paperwork, all on that sort of level, and then I moved on from there and got my license and went trucking," De Ridder said.
She spent most of her trucking career, from 1984 to 2013, running stateside hauling produce from Ontario to various parts of California. She moved back to her hometown of Fredericton, New Brunswick, in 2013 and now pulls dry van and reefer throughout the maritime provinces.
De Ridder has been promoting trucking to other women throughout her entire career. She frequently travels to high schools and other events to introduce trucking as a career option to the upcoming workforce.
"This event that we had two weeks ago, I had so many questions from these young ladies. I was just astonished at the questions they were asking about trucking," De Ridder said of a recent high school visit she made. "I think we've got to get kids interested at that kind of level or younger to promote them into the business."
Trucking has changed a lot since she started driving, De Ridder says, and she thinks it's a great time for women to get into the industry.
"I think it's important for women to know that they can do anything they want to do. Just believe in it and set goals. You can do this," De Ridder said.