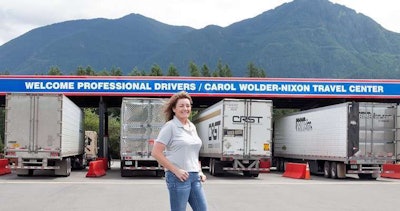 Buffalo, Missouri-based truck driver Carol Wolder-Nixon has a full resume. She's got almost 28 years of trucking experience under her belt in addition to running aa upholstery business on the side as well as a dustless blasting business that she runs with her husband, Lee.
Earlier this year, Wolder-Nixon was announced as one of TravelCenters of America and Petro Stopping Centers' 2018 Citizen Drivers.
The Citizen Driver program recognizes drivers "who earn public respect for our industry through good citizenship, safety, community involvement, health and wellness, and leadership."
Wolder-Nixon has embodied that mission by trying to always help her fellow drivers. She took that the extra mile when she donated a kidney to a fellow driver's husband in 2016. She first met trucker Deb Pollard at a Women In Trucking event in 2015, when the two women were matched up together as hotel roommates. Deb confided in Wolder-Nixon that her husband, Craig, was sick and on dialysis, in need of a kidney. Wolder-Nixon offered then and there to donate her kidney to Craig, if she were a match, and to donate a kidney to someone else if she wasn't if it meant Craig could receive a kidney.
"I would have donated to somebody else if that would have gotten him a kidney if we hadn't been a match, but fortunately we were spot on. It was great," Wolder-Nixon said.
Wolder-Nixon and the Pollards are still friends to this day and Wolder-Nixon said she wouldn't hesitate to donate another kidney if it were possible.
"If we grew kidneys, I would absolutely do it again. It's very humbling," Wolder-Nixon said.
As part of her Citizen Driver status, Wolder-Nixon was given the opportunity to have a TA location named after her.
When Wolder-Nixon was given a list of truck stops to choose from, one in particular stood out. It was the first truck stop she ever visited when she first started her trucking career almost 28 years ago.
"I'm not ready to end my career yet but I'd like to drive another 10 years, maybe. I thought I want to end it kind of where it started. I have so much family out there that I wanted it to be out there," Wolder-Nixon said.
She picked the TA location in North Bend, Washington, on I-90 at Exit 34. It was recently officially renamed as the Carol Wolder-Nixon North Bend Travel Center.
Aside from being a Citizen Driver, Wolder-Nixon stays plenty busy thanks to her side businesses. She's been sewing and working with upholstery since she was a teenager. She's done a lot of work on her own 1955 Chevy pickup, which she built from the ground up, as well as her husband's 1957 Ford Ranchero and 1957 Ford Ranch Wagon.
"I've always been curious about taking, not mechanical things apart, but taking furniture apart, things like that. Putting it back together, making something ugly look really good. I've done that since I was a teenager and always have found the time to do a little bit," Wolder-Nixon said.
She and Lee also run Lee's Dustless Sandblasting LLC and are in the process of building a warehouse for their business.
"Whenever we're done driving, that will be our retirement," Wolder-Nixon said.