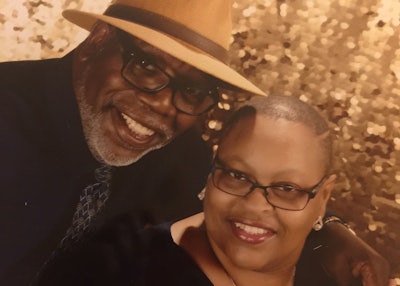 Big G Express driver Philippa Rowe-Bailey grew up alongside one of the major thoroughfares in Gadsden, Alabama, watching trucks as they rolled by. She told her family that one day she would drive a big red truck of her own.
"I would sit and watch trucks go up and down the highway through the window and I would oftentimes tell my older brother I'm going to drive a big red truck and he would laugh of course, but I would always say I'm going to drive a big red truck," Rowe-Bailey said.
Rowe-Bailey started driving about 15 years ago and while her current truck isn't red, she did train in one that was. She now lives in Murfreesboro, Tennessee, with her husband Gary Bailey, a retired trucker. She pulls a dry van for Big G and her husband rides along with her most of the time.
Rowe-Bailey can't put her finger on what exactly attracted her to trucks; They just always fascinated her.
"You know, when I was a small child I was just fascinated I guess by the size of (trucks), or I'm not sure what it was," she said. "It was just something that was always fascinating."
When Rowe-Bailey first started trucking, her youngest child was 14 years old. She had to learn how to trust her "village," she says, and let home take care of home. She offers advice for other mothers interested in becoming a driver: Build a network of people at home that you can trust.
"For other women that want to get into trucking, my advice would be to be patient with yourself and let home take care of itself because you can't focus on what's going on at home or what may fall apart at home, and still be successful on the road," Rowe-Bailey said.
An over the road career will be a challenge if you don't have people back home supporting you, she says.
"It's just really about making sure that the village of people that you have in your community is able to care for your children while you're away. You have to trust your village." Rowe-Bailey said.
When she's not on the road or spending time with her family, Rowe-Bailey and her husband enjoy going on cruises. They try to go on at least one cruise a year. Their favorite cruise was the first one they took together to Cozumel, Mexico. They have another cruise trip coming up this year to Jamaica.
"It was the first one for him and myself," she said about that trip to Mexico. "We were both wide-eyed and didn't know what to expect, and we just enjoyed it from start to finish."