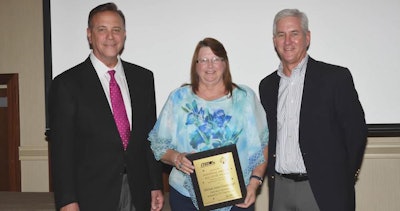 Truck driver Anne Goodnough has been driving for 28 years and she was recently recognized by her fleet and the National Private Truck Council with a major award.
The NPTC recently recognized Goodnough as one of its 2018 National Driver All-Stars honorees, making her the first woman to win the award. NPTC launched the awards program in 2009 to "recognize those drivers of NPTC fleet member companies based on how they perform against their own internal customer service metrics."
Goodnough, from Easley, South Carolina, drives for CPC Logistics and is assigned to Fabri-Kal Corporation, hauling a variety of plastic products like cups, bowls, and other containers over the road.
Goodnough enjoys driving for CPC Logistics because they're a smaller team with a family environment.
"With this company here, we don't have but about 13 drivers so it's nice. Working for a bigger company, some people you would never know who they are," Goodnough said. "The nice thing here is we all know each other and a lot of us have come up through the different companies. We've known each other for a long time."
She's been driving for CPC Logistics for seven years. She's able to work with the same dispatcher each week, which she says is a benefit.
"Working with one person, one dispatcher, every week, it makes a difference when you know who you're dealing with all of the time instead of dealing with maybe five or six different people in different areas," Goodnough said.
As a driver of 28 years, Goodnough has been able to see more and more women start to come into the trucking industry.
"I try to tell a lot of people if you're not going to college, if you don't have somebody that's tying you down at home where you have to stay, it's a wonderful job," she said. "When I first started out there were very few women out here. It just seemed like you'd run into one here or there. There's a lot more of us out here now."
Goodnough was initially attracted to trucking because she wanted to travel, and as a driver, she's been able to drive throughout the United States and Canada. She continues to be an avid traveler in her free time, taking at least one cruise vacation each year.
"I love traveling. When I'm not driving a truck, I'm sitting here trying to figure where I'm going to go," Goodnough said.
Her favorite place to go on a cruise is San Juan, Puerto Rico because of the natural beauty of the area. Her favorite place over the years that she's been able to deliver to was the Vancouver, British Columbia area because she says "it's the prettiest country up there you'll ever see."
Within the U.S., she is partial to Upstate New York.
"As far as across the United States, Upstate New York up in the New England area, it just doesn't get much better than that. It's beautiful," Goodnough said.