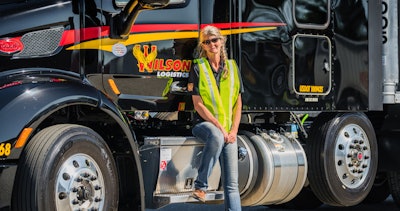 Wilson Logistics driver trainer Kari Huisman is one of the first faces drivers see after signing on with the fleet. Huisman, from Olympia, Washington, leads several classes as part of the fleet's onboarding program.
Huisman drove for over 25 years before transitioning to her office-based trainer role, which she has held for about four years. During her time behind the wheel she hauled a variety of freight and spent her last five years as a driver traversing the I-5 corridor in western Washington hauling local loads. Huisman's trainer role lets her share everything she learned during her quarter of a century as a driver.
"I just pass on what I've learned and welcome our new recruits into our company and give them all the tools that they need to feel capable and to want to work and feel like they can do it," Huisman said.
She teaches a heavy haul/weights class, a chain-up class, pre-trips, backing, how to use a Qualcomm, online safety classes, and she takes people on drive tests. Her classes are taught inside, outside, and online.
"Basically I'm training all day, different classes in or outside," Huisman said. "Just trying to figure out in a short time what each person's personality needs and where I can fill in the holes so they feel like they're really ready to go."
Even after students graduate on from her classes and move into trucks of their own, she calls them and checks up on them. If they have any questions or uncertainties, she wants them to feel like they can reach out to her for help.
"There's a whole bunch of questions that people forget to ask or don't even know to ask when they're with us for the week so I just want to make sure that they're well-supported and that they have somebody who understands what they're doing and listens to them and can help out," Huisman said.
Huisman says aspiring driver trainers should be "slow to speak and quick to listen." Being a good listener is key to being a successful trainer, she says. You also have to have a thick skin and be willing to roll with whatever comes up.
"There's so many different personalities and also trucking experiences that you kind of have to listen quickly and connect those dots, but also make those people feel at home and that you can be trusted," Huisman said.
Earning a trainee's trust will help them open up about their fears or doubts so that those can be addressed. One of her favorite parts about being a driver trainer is helping people overcome those fears, such as the common fear of backing.
"I love showing them that this is just a truck and you absolutely can do this. When that light bulb goes on in their eyes, I love that. That's just the coolest thing," she said.
Huisman credits her leaders at Wilson Logistics for giving her the opportunity to mentor drivers in her own way.
"They allow me to interact with drivers in a way that I feel makes them feel at home because I think that's where you do the most learning and you keep that learning," Huisman said. "I've taken drivers in trucks with me and now I do this, and I love being the face of the company the first couple of days with them."