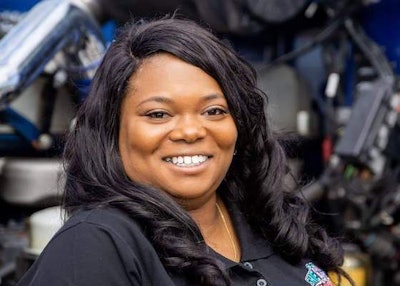 The Real Women in Trucking association will honor five women with awards during the Great American Trucking Show in Dallas at the Kay Bailey Hutchison Convention Center, Aug. 22-24.
The RWIT awards presentation, sponsored by the RoadPro Family of Brands, will be Saturday, Aug. 24, at 2:30 p.m. in Hall A. The event is open to everyone.
Four women will receive Trucking Industry Trailblazer awards and another will receive a Queen of the Road award. Sharae Moore of S.H.E. Trucking is the first woman to be announced as one of the four Trailblazer awards winners. Moore is being recognized for "fostering successful diversity," says RWIT President Desiree Wood. Overdrive's Most Beautiful winner Brita Nowak will present Moore with the award. The other three winners will be announced as the truck show approaches.
Elizabeth Sweet, who pulls a crude tanker for Contractor Support, will receive the Queen of the Road award, which will recognize her for willingness to aid others by donating a kidney to fellow driver Cheryl Lynn Ibana-Bean. Ibana-Bean will present Sweet with the award.
Other presenters at the event will include Idella Hansen and Anne Balay.
RWIT usually presents its annual Queen of the Road awards during the organization's annual cruise, but moving forward the presentation will take place at GATS.
"We decided that we wanted to make it more accessible to other drivers and obviously more women," Wood said.
GATS registration is available online for free in advance of the show.