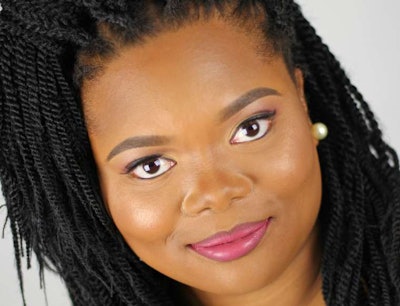 Chattanooga trucker Sharae Moore couldn't find a shirt saying "I'm a woman, I drive trucks" or anything similar in the truck stops she was visiting. There were plenty of shirts with sayings like "I'm a proud trucker's wife" and "My dad drives a truck," but nothing that actually said she was a driver. So she decided to make her own shirts.
"I actually ordered some shirts myself that I created online back then and I would wear it as my uniform," Moore said. "I ordered five and I'd wash them every week and that was like my uniform."
People kept asking her where she bought her shirts from, so she decided to start making more and selling them. She wanted to recognize women in the trucking industry, so she launched her S.H.E. Trucking apparel business. She sells clothing for women, men and children, as well as accessories. She creates all of the designs and sometimes partners with artists to bring her visions to life.
"What I'm trying to do is recognize women and men through fashion. I want to show them it's okay to be in the truck and wear bracelets. It's okay to dress up," Moore said.
Moore says one of her goals is to help truckers advertise their own brand. Her clothing site offers customizable safety vests and shirts where truckers can put their name or business logo.
"I'm trying to teach women, and men, to brand themselves. If you're an owner-operator, put your company name on the back of your shirt and put your name on the front, so when you walk into these shippers you look professional. It's your uniform," she said.
When she sees people wearing the clothing she's designed, Moore feels empowered.
"They are wearing it proudly. It makes me feel really good to see ladies out here representing something they love, something they like to do – their career," Moore said.
Moore spends all of her down time working on her clothing business. When she's on the job, she's a local company driver for G&P Trucking hauling mostly Coca-Cola products. Her father drives and her mother drove buses, and she has uncles and cousins who drove for a living. She says she tells people, "I bleed diesel." She got her own CDL in 2014.
Trucking has been life-changing for her, she says. Moore tells other women interested in trucking to give it a chance.
"Step out on faith. It's not going to be easy. It's going to be hard. Anything you do is going to be hard, but it's worth it," Moore said.