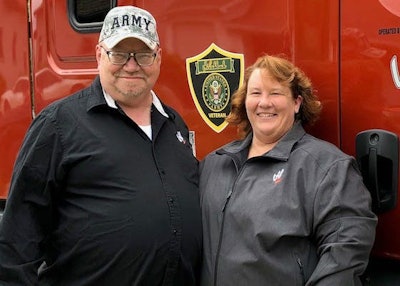 A husband and wife are being recognized for their heroics after responding to a fiery crash.
Ed and Tracy Zimmerman, a husband and wife team who drive for Hirschbach Motor Lines, Inc., are being recognized as Highway Angels by the Truckload Carriers Association for rescuing a trapped motorist from his burning vehicle.
Tracy was driving on I-77 near Beckley, West Virginia, with Ed asleep in the back, when she came around a curve and saw a burning car rolled over in the ditch up ahead. Tracy positioned her truck to block traffic as another motorist came running up to her, waving his arms and shouting for a fire extinguisher because the car's driver was trapped in the vehicle. Tracy grabbed her truck's fire extinguisher and she and Ed ran to the car. Another motorist used their fire extinguisher to fight the flames while Tracey, Ed, and two other men worked to pull the injured motorist from the burning vehicle.
The injured motorist told them he had guns and ammunition in his vehicle, so everyone moved quickly to distance themselves from it. Moments later, it exploded and sent glass and metal flying.
Tracey and Ed stayed on the scene until first responders arrived.
"It was a surreal, incredible, life-changing moment. God puts us where he needs us the most. Two more minutes and that man would have been burned alive," Tracy said.
The Zimmermans later saw a newspaper article stating the driver was expected to survive. He had come off a night shift and apparently fell asleep at the wheel as he headed to his daughter's birthday party that day.
"We just did what you should do—stop and help," Ed said. "Someone was in need and we helped."
TCA has presented the duo with certificates, patches, lapel pins, and truck decals.