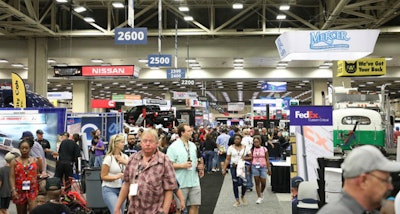 All trucking roads lead to Dallas this week as the Great Amerian Trucking Show takes over the Kay Bailey Hutchison Convention Center starting Thursday. The show runs until Saturday afternoon and delivers a mix of music, trucking business information, health screenings, custom show trucks, new products for professional drivers and no small amount of fun.
There's still time to register online for free admission to the show, which features 500 exhibitors on 5000,000 square feet of space.
Highlights of this, the 20th anniversary show, include:
You can see the entire show schedule here.
Show hours are:
Thursday, noon to 5 p.m.
Friday, 10 a.m. to 5 p.m.
Saturday, 9 a.m. to 4 p.m.
To make the most of your time at GATS, be sure to get the app, which lets you customize your show visits.
And, if you're driving your truck to GATS, free parking — and so much more — is available at the TA Petro Truck Parking Community. Located at 3013 S Haskell Ave, Dallas, TX 75223, free shuttles are provided to and from the show. The community includes:
Shower trailers sponsored by TA|Petro
Truck service and repairs by TA Truck Service
Free truck wash provided Friday & Saturday 8 a.m.-Noon, 2-6 p.m. sponsored by Riteload
Truck Parking Community Tent
Auctions benefiting St. Christopher's Fund

Silent auction will be from 5-8 p.m. on Thursday, August 22
Live auction will be from 4:30 -7 p.m. on Saturday, August 24
Nightly celebrity dunking booth opportunities
American Pride Truck Charity Event

Food Truck, Flaming Grill BBQ
Ice Cream Truck On Friday & Saturday sponsored by Riteload (coupons can be picked up at the Riteload tent in truck parking)
Pet grooming
Nightly entertainment

Entertainment sponsored by Heniff Transportation
Special appearance by Leon Everette at the Riteload tent Wednesday, 7 p.m.

On-site security
Portable restrooms
Worship Service at 10 a.m. on Sunday morning with Bill Blackman from Truckstop Ministries