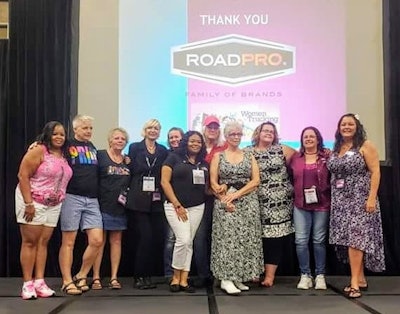 Another Great American Trucking Show is history, and the one that concluded Saturday, Aug. 24 was especially busy. The three-day show at the Kay Bailey Hutchison Convention Center in Dallas featured new attractions, new informational programming, new products, and a slew of truckers who won a variety of awards.
Many of the events at GATS meant some lucky truckers went home with trophies or cash. Sometimes both. Award winners this year included:
Julie Hedglin, RoniHazel Sherman, Karen Shank, Sharae Moore and Elizabeth Sweet who were honored as trucking trailblazers by the Real Women In Trucking's Queen of the Road Awards for their contributions to the industry and women truck drivers.
Dwight Arnold, an Army veteran who drives for Stevens Transport, was named the winner of the 2019 Mike O'Connell Trucking's Top Rookie Award. He went home with $10,000, and prizes from the RoadPro Family of Brands and Rand McNally.
Taylor Barker, an owner-operator out of Kingsport, Tennessee, won the 2019 Overdrive-Red Eye Radio's Trucker Talent Search contest.
Christopher Bacon, Wade Bumgarner, Joseph Campbell, and Steve Harris were announced as finalists in the 2019 Transition Trucking Driving for Excellence Award.
Kaleb Hammett of Dodd City, Texas, won Best of Show honors from Overdrive's Pride & Polish with his 2017 Peterbilt 389, "Ya Savvy."
New at GATS this year were:
The New Truck Pavillion, which displayed a dozen 2020 models and an autonomous truck created by Starsksy Robotics.
A display of rat rods, custom trucks that recreate the glory days of hot rods in the 1940s, '50s and '60s.
Rand McNally unveiled a new version of its ClearDryve headset, and BlueParrott showed off its B350-XT headset.
Other highlights included:
A visit by "Ice Road Truckers" star Lisa Kelly, who greeted folks at the Chevron Delo display.
Australian country rocker Jayne Denham debuting her new single "Black Coffee and White Lines" and hanging out at the Truckers News booth.
St. Christopher Trucker Relief Fund going home almost $85,000 richer thanks to a donation from Travel Centers of America and High Noon Sales.
Ray Martinez, head of the Federal Motor Carrier Safety Administration, held a listening session with truckers and others about the agency's proposed changes in federal hours of service regulations.