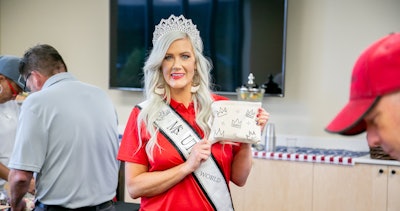 C.R. England Senior Recruiter Jewel Frazier is headed to the Ms. World National pageant in November and she's lifting up women truckers along the way as part of her pageantry platform.
Frazier, a two-time Ms. Utah World, led an assembly Aug. 22 of beauty bags, or bags packed with treats and essentials for women truck drivers. Frazier and other C.R. England volunteers were able to make and distribute 200 beauty bags to the fleet's female drivers and students. The beauty bags included makeup wipes, manicure kits, facial masks, lotion, lip balm, nail files, hand sanitizer, feminine hygiene products, cleaning wipes, deodorant and more.
"I wanted to do something to celebrate the women in this industry," Frazier said.
Frazier is also a licensed master esthetician and works in a beauty studio on the side. The beauty bags gave her an opportunity to combine her careers in the trucking and beauty industries.
"It's a perfect marriage between the two. I'm in the truck driving industry and the beauty industry," Frazier said. "What would be more perfect than making these women that are over the road feel like they're still beautiful and hygienic and like they're cared about?"
Frazier was inspired to make women in trucking her platform because, as a recruiter, she's seeing more and more women come into the trucking industry despite it being a traditionally male-dominated field, she says.
"It's not even that the sky's the limit. We can do whatever we want to do. We have the freedom here in the U.S. to do whatever we want and if you want to be a truck driver, don't let a stereotype or a stigma hold you back," Frazier said.
Frazier will compete in the Ms. World National pageant Nov. 1. She plans to continue with her women in trucking platform because she's so passionate about it, she says.
"We've all grown up different but we're all very much the same. As you break down the layers we all have a very similar common ground. I have noticed as I work with women from all over the country that we're still women. We still want to feel beautiful and clean and special. My whole goal in putting together my platform is we're strong, we're fierce and we're in a male-dominated industry," Frazier said. "There are no limits. We truly can do whatever we want to do and I'm very honored to be amongst these ladies."