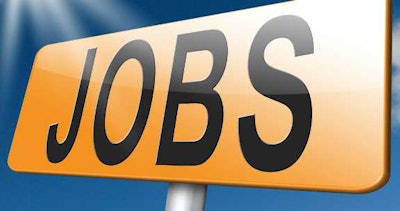 The total number of people employed in the for-hire trucking sector of the economy fell by 1,200 in May, according to preliminary figures released Friday by the Department of Labor in its monthly employment report. May's decline follows the huge dip in trucking industry employment — 89,800 jobs — in April. The DOL downwardly revised trucking job losses in April from the originally reported 88,000.
However, the U.S. economy as a whole saw unemployment decline in May, with the U.S. economy adding 2.5 million jobs on a seasonally adjusted basis and the unemployment rate falling to 13.3%. Those broader gains were mostly deemed as a surprise, given most economists expected unemployment to fall further in May from April's losses.
Trucking industry employment totaled 1,431,600 in May, according to the DOL. Like April, that's trucking's lowest total employment number since November 2014.
In positive news for freight demand, however, major freight-producing sectors like construction and manufacturing saw employment start to rebound in May. Construction added 464,000 jobs, according to the DOL, while manufacturing added 225,000 jobs. For both sectors, that's about half of the jobs cut in March and April.
In other sectors, air transportation dropped 50,000 jobs, and rail transportation lost 2,100. The warehousing and storage sector gained 8,500 jobs. The leisure and hospitality sector gained 1.2 million jobs back, though it still has plenty of ground to make up after losing more than 7 million jobs in April.