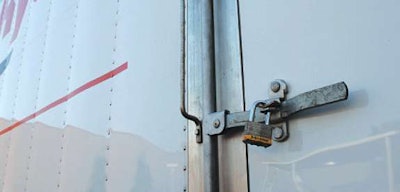 As with other long holiday weekends, this week's Fourth of July observance is expected to cause an uptick in the amount of and value of cargo theft.
CargoNet tracks such things and says that over the past five years, there has been more than $5.9 million worth of cargo theft during the July Fourth holiday.
The company also suggests there are things that can be done to reduce the risk of drivers becoming victims of cargo thieves. CargoNet suggests:
Make sure that both security managers and drivers have accurate license plate, VIN, and descriptive information for tractors, trailers, containers, and container chassis. Police agencies will need this information to open an investigation in the event of an incident. Drivers should keep this information on them so they can quickly reference it if their truck is stolen.
Secure all trailers (loaded and unloaded) with high-security ISO 17712 compliant barrier seals in combination with hardened padlocks. Use king pin locks for unattached trailers.
Secure all tractors with high-security locking devices, such as air-cuff and steering column locks.
Remind drivers to arrive at the point of pickup well-rested, showered, and fed and with a full tank of fuel so they are ready to fo.
Avoid having loaded trailers sit unattended when employees are not present.