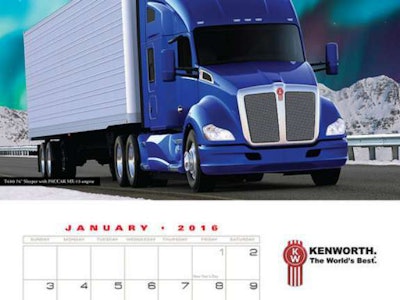 The 2016 Kenworth calendar features images of some of the company's vocational, traditional and medium duty trucks in scenic and work settings.
The 6-page, 2016 Kenworth Wall Calendar showcases the
On-highway T680 76-inch sleeper
Vocational T880 40-inch sleeper with the PACCAR MX-11 engine
ICON 900
T880 family (day cab dump truck, 52-inch regional sleeper and 76-inch mid-roof sleeper)
T680 76-inch full height and mid-roof sleepers
Medium duty conventional T370 fuel tanker
The poster-size wall calendar is 26-1/4 inches tall by 28 inches wide.
The 2016 Kenworth Appointment Calendar highlights a Kenworth Truck of the Month. These trucks include the six wall calendar photographs.
Also featured are the
T880 dump truck with PACCAR MX-11 engine
T880 52-inch regional sleeper
T680 76-inch mid-roof sleeper
T680 CNG (compressed natural gas) day cab
K270 cabover stakebed and T370 conventional van with PACCAR PX-7 engines
K500 with 105,000-lb carrying capacity
The appointment calendar is 9-3/4 inches tall by 13 inches wide.
To order, visit a Kenworth dealer or go to www.shopkenworth.com.
Cost is $16.95 for the wall calendar and $11.95 appointment calendar, plus shipping and handling.