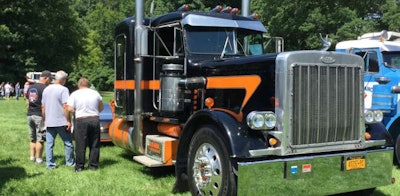 Participants arriving at Sunday's American Truck Historical Society Central New York Chapter's annual show drove under a mammoth American flag hanging from the extended arm of a bright pink truck owned by All Ways Concrete Pumping of nearby Auburn, New York.
It was a new welcome to Longbranch Park in Liverpool, just north of Syracuse, for the more than 165 participants at the group's 20th annual show.
Scott Smith, chapter president and show chairman, was pleased with the turnout and continued support of the show by the trucking community.
"It's the people who make this show a success," said Smith, whose grandfather was a truck driver. Smith is a mechanic and exhibited his 1968 Dodge pickup that has been in the family for 49 years.
One of those longtime supporters at the show was Jeremy George, a mechanic for Broome County, and president of the Brockway Truck Preservation Association. He showed his orange 1974 Brockway N359TL, which was parked alongside two other Huskies; all had been built in Cortland, just 40 miles straight south of the show.
George is as enthusiastic about preserving old trucks in general as he is about touting Brockways, his brand of choice. On Sunday, George talked a bit about the future of antique truck preservation and shows like the one he attended. (Watch for a future Truckers News podcast with George.)
"We need to get the younger generations involved," said George, who grew up in a family that owned Brockways and worked on big trucks. He's concerned that many of the older people in the hobby are "not welcoming the younger guys with their style and their brand whether it's adorned with chrome-plated skulls and eight-inch stacks and dropped on air bags. Regardless of what it looks like, you have to embrace the passion of any hobby trucker. These young guys are going to carry this hobby on into the future and they have to be embraced with open arms and welcomed, regardless of what they pull into the truck show with."
In fact, he has a Huskie customization in the works at home; a 1968 Model 360 he hopes will stand as an example of what might attract younger enthusiasts to the hobby and to Brockways.
George will be part of the group welcoming Brockways back to Cortland next month. The 18th annual National Brockway Truck Show is Aug. 10-13.