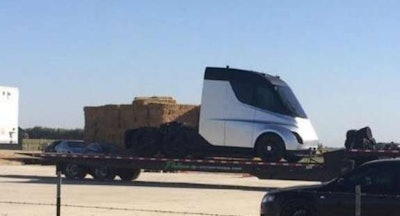 These are busy days for those who want to change how trucks are driven and propelled.
A self-driving vehicle was involved in an accident during its first day on the road, while a transportation tech wizard is set to show off his all-electric truck.
Self-driving bus debuts, crashes
Just hours into its first day on the job Nov. 8, a small self-driving shuttle bus was involved in an accident near the Las Vegas strip. Ironically, it was struck by a tractor/trailer, the kind of vehicle targeted by much of the autonomous vehicle industry.
News reports say the shuttle, which is operated by the City of Las Vegas, performed properly, stopping when struck by a tractor/tailer backing up. No injuries were reported, and damage was minor, according to the Las Vegas Review-Journal.
The newspaper reports, "Police determined that the shuttle came to a stop when it sensed the truck was trying to back up. However, the truck continued to back up until its tires touched the front of the shuttle."
The truck driver was ticketed for illegal backing.
Tesla rolls out mind-blowing truck
Tesla founder and CEO Elon Musk on Sunday tweeted that the company's electric semi will make its debut Thursday night, and did so in grand style.
He Tweeted: "Tesla Semi Truck unveil to be webcast live on Thursday at 8pm! This will blow your mind clear out of your skull and into an alternate dimension. Just need to find my portal gun …"
The Tesla semi has been delayed twice since Musk originally announced the company was working on an electric tractor in July of last year. The truck was originally set for debut in September before being pushed to October, then to tomorrow.