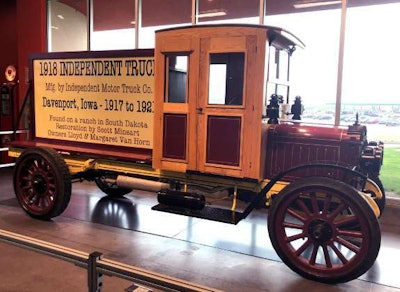 Iowa 80 Trucking Museum will host a 100th birthday party for its 1918 Independent brand truck on Friday, July 13 at 2:30 p.m. The event coincides with this year's Walcott Truckers Jamboree, July 12-14. The public is welcome to attend the celebration, which, like the jamboree, is free.
"The Independent Motor Truck Company built trucks for less than a decade in Davenport, Iowa", said Dave Meier, museum curator. "This particular truck is one of few surviving examples and was found on a ranch in South Dakota. The truck was purchased from Lloyd and Margaret Van Horn of Mason City, Iowa."
Independent Motor Truck Company was one of 15 truck manufacturers in Iowa. They built trucks from 1917- 1921 and offered two different models; a 1-ton and 2-ton.