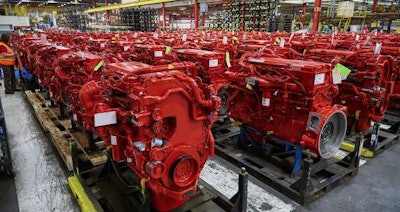 Cummins has instituted a voluntary recall of roughly 500,000 model-year 2010-2015 engines, according to an announcement from the U.S. Environmental Protection Agency. The recall involves faulty emissions systems components that cause the engines to fall out of compliance with federal emissions regulations.
The trucks and engines under the voluntary recall have seen a degradation of their selective catalytic reduction (SCR) systems, according to financial reports issued by Cummins. SCR systems are the exhaust aftertreatment components that use diesel exhaust fluid to curb emissions of nitrogen oxides and greenhouse gases. All manufacturers of engines for Class 8 trucks use SCR and DEF in their emissions-control systems. Engine makers adopted the technology in 2010 to meet that year's emissions hurdles.
In financial reports issued for the 2017 fiscal year and for the first quarter of 2018, Cummins noted that the EPA and the California Air Resources Board had pulled "certain pre-2013 model year engine systems for additional emissions testing" and that "some of these engines failed… tests as a result of degradation of an aftertreatment component."
EPA says that Cummins will contact owners of Cummins engines with information on how to have their engines repaired.
Cummins said in those reports that it planned to institute a field campaign to address the issue. The engine maker said in its 2017 10-K filing that it had set aside nearly $200 million for the repair campaign.