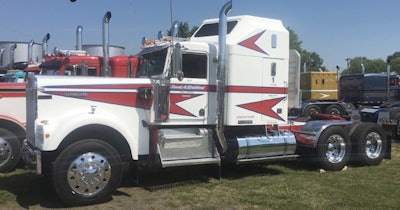 Many truck shows and other trucking industry gatherings were postponed or cancelled by the COVID-19 coronavirus pandemic that has changed many aspects of American life.
The Mid-America Trucking Show was about to open just as COVID-19 began ramping up and the number of cases and deaths grew and spread. Numerous other trucking events followed suit.
One of the favorite annual events for many in the industry and especially those who are fans of trucks fell victim when the American Truck Historical Society announced its annual convention and truck show would not go on as planned in Springfield, Illinois late last month.
However, unlike most other trucking events, ATHS had a solid plan "B": hold its gathering online. The organization quickly shifted gears, and held its educational sessions and annual meeting on Zoom. In a rather Herculean effort ATHS staged its annual truck show as a series of 20 YouTube videos.
And, the association is more than pleased with how things went.
"ATHS takes great pleasure in leading the way in truck shows," ATHS Executive Director Laurence Gration. "The first Society to NOT cancel their show, the first to put it all online for the membership to view. It is pleasing to see others are now following our lead."
Gration said the virtual convention and truck show went over "exceptionally well." He said there have been almost 20,000 views across 37 countries looking at 1,455 trucks from 11 countries, including all 50 U.S. states.
Each video spans a series of years, starting with one showcasing trucks form 1902 to 1929 and ending with one that includes trucks from 1996 to 2020. (There's also one for late entries that includes trucks from a variety of years.)
In all, the 20 videos — all between 15 and 20 minutes long — showcase 1,455 trucks, each with identifying details.
Even shifting gears from in-person to strictly online, the ATHS "expanded the show substantially, allowing anyone with a passion for old trucks to get their share," said Gration.
He said the society is already working on how to integrate the technology learned this year into the live truck show in Harrisonburg Virginia next year.
Gration said ATHS is working at getting all of the convention and truck show posted and open to the public on YouTube. In the meantime, anyone can check-in at ATHS.org/Convention and see what's available – 24/7 – for free.