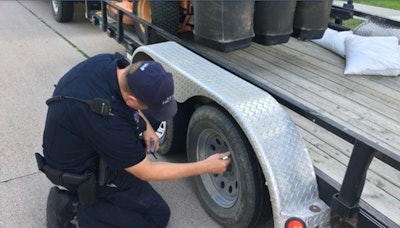 Nebraska State Police photo
Troopers with the Nebraska State Patrol Carrier Enforcement Division conducted surprise commercial vehicle inspections Wednesday, Sept. 8, in Buffalo County, which is about 40 miles southwest of Grand Island.
During the special enforcement effort, the Metropolitan Aggressive and Prevention Selective (MAPS) Team conducted 13 vehicle inspections. Troopers presented a Commercial Vehicle Safety Alliance sticker to five vehicles or trailers.
RELATED NEWS: FMCSA shuts down Massachusetts trucker after DUI crash
Troopers also discovered 75 violations of Federal Motor Carrier Safety regulations and state law. Troopers placed eight vehicles out of service. Troopers also placed two drivers out of service for violations.
The surprise inspections target commercial vehicles that might not travel outside the city or pass through weigh stations as part of their regular routes.
The MAPS Team is funded largely by the Federal Motor Carrier Safety Administration. The MAPS Team was implemented in 1998.